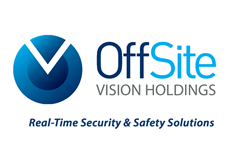 "We understand that the true formula to success is clear communication and listening to exactly what our clients wants and then bringing them technology that works, states Mark Eklund, President at OSVH
Red Bank, NJ (PRWEB) January 10, 2017
OffSite Vision Holdings, Inc. (OSVH), pioneers in real-time physical security and safety solutions, today announced that the company has been named a winner for the best asset tracking and pairing technology by Government Security News (GSN) as part of its 8th Annual Homeland Security Awards Program. OSVH's EmergenZ™ Asset Secure Solution was selected as a winner under category #2 - Vendor of Physical Security Products & Solutions and won as the best asset tracking & pairing technology in the industry. This revolutionary technology, EmergenZ™ Asset Secure, automates the task of asset tracking and inventory management and is taking the physical security industry to a new level with never-before-seen capabilities. This solution provides personnel with peace of mind by offering immediate and accurate location data that improves automated inventory management and the ability to keep valuable assets secure day and night by managing assets in real-time 24/7.
The GSN winners were selected based on specific criteria which included technological innovation or improvement, filling a recognized government IT security need, and flexibility of the solution to meet current and future organizational needs. The solution, offers government agencies both an on-premise or cloud-based option to quickly and accurately manage large quantities of assets in real-time. Core capabilities include an automated audit trail of Asset Entry/Departure data, control of assets' ownership and location, quick identification of unauthorized removal attempts, and SMS alerting with preset building responses to assist security personnel. Together, these innovative features help save time and money on inventory management and reduce the risk of theft at government agencies and other high profile facilities across the nation.
Additional customer benefits include an easy-to-use automated system, a simplistic dashboard, and the option of web-based data delivery. "Our open platform offers interoperable feeding input data with existing security systems. The solution can be integrated to Video Management and Access Control Systems and turnstiles to quickly prevent unauthorized removal of assets," states Mark Eklund, President at OSVH. "We are extremely proud to be recognized by GSN for our superior solution and understand that the true formula to success is clear communication and listening to exactly what our clients wants and then bringing them technology that works."
Unique asset pairing capabilities allows security to assign specific ownership rules to assets and employees, set alert parameters such as sounding alarms, turning video cameras & sending text alerts if an asset is detected with the wrong employee or person. With the EmergenZ™ Asset Secure solution, a security alert can be set to immediately trigger when an asset leaves an assigned location for added security. Powerful data analytics are immediate and exact and offer secure - encrypted data. Users can view dynamic on demand real-time reports that help achieve 24/7 accountability for inventory tracking and identify and account for the location of tracked assets at all times; which significantly reduces the cost of inventorying assets and theft rates.
The future of automated asset tracking technology is here thanks to OSVH. The company plans to continue to lead the way in bringing new, powerful life safety and security technologies to life. For further information, visit http://www.offsitevision.com.
About OffSite Vision Holdings, Inc.
Founded in 2013, OffSite Vision Holdings, Inc. (OSVH) offers real-time security and life safety solutions and works with companies who are looking to protect their employees, assets and intellectual properties in various vertical markets including commercial enterprises, federal and state government, utilities, pharmaceuticals, and schools. Currently, OSVH has Sales & Marketing offices in Bohemia, NY and Corporate offices in Red Bank, NJ. With a focus on data collection and analytics, the company has developed a unique solution that solves specific security problems that have not been able to be solved in the past. OSVH helps companies and emergency responders "see what cannot be seen" and quickly identifies a situation for quick response and mitigation. With 24/7 situational awareness capabilities in place, lives can be saved by being prepared.
OSVH offers optimized technologies for dynamic M2M cloud-based environments including mobile and wireless communications, web-based data delivery services, cutting-edge sensor and RFID technologies, and location intelligence. Flagship products include EmergenZ™ Evac, EmergenZ™ Response, EmergenZ™ Asset Secure, and EmergenZ™ Outdoor Secure. All solutions provide cloud-based, highly scalable security options that identify the location of people and high value assets, from anywhere at any time. For further information on OSVH, please visit: http://www.offsitevision.com
PR Contact:
Monique Merhige, President
Infusion Direct Marketing & Advertising, Inc.
Phone: 631-846-1558
Email: monique(at)infusiondirect(dot)com