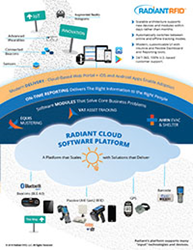 Austin, Texas (PRWEB) January 12, 2017
Dallas County Community College District (DCCCD) has selected Virtual Asset Tracker (VAT), Radiant RFID's end-to-end asset management solution, to manage asset security and location visibility for its campuses IT assets.
Radiant is the industry leader in higher education IT asset management, enabling customers to track and manage hundreds of thousands of assets across hundreds of campuses. By automating data collection, passive RFID technology vastly reduces human effort – and error. Traditional methods such as bar codes and spreadsheets are time consuming and inaccurate. Because RFID technology reads multiple tags at once without requiring a line of site, customers are able to more quickly and accurately locate assets, respond to audits, and reduce maverick spend.
Radiant RFID is deploying a passive RFID solution that includes traditional handheld and fixed RFID readers, UHF Gen2 RFID tags, hosted RFID software, on-site training, and ongoing customer support. Additionally, DCCCD will utilize Radiant's VAT2Go app for greater visibility and tracking of assets.
During an audit, VAT quickly reports what assets are assigned to, located within, or missing from a location. This information enables administrators to rapidly and accurately reconcile inventory and account for asset movement from room to room, building to building, and even campus to campus, thus saving time and money while fostering a philosophy of reuse.
Like many customers, DCCCD has multiple software systems in use and needed VAT to seamlessly integrate and share data with these systems. Radiant's Automated Import and Export Module makes this process easy, consistent and reliable and will enable finance and property management to focus on better asset utilization and tracking.
Radiant's VAT customers track and manage millions of assets every day. DCCCD joins Radiant's large family of higher education customers that utilize the asset tracking solution to keep track of equipment, furniture, vehicles, laptops, data center assets, and more.
About Radiant RFID
Radiant RFID, LLC provides complete solutions that keep track of the world's most dynamic assets. Headquartered in Austin, Texas, Radiant's customers include large corporations, educational institutions, and public agencies. For more information call (512) 351-4915 or visit http://www.radiantrfid.com.
# # #