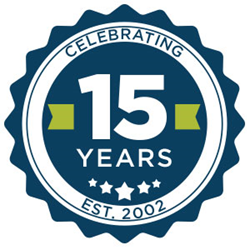 We remain committed to our customers, offering them superior quality, personalized customer service and great value.
(PRWEB) January 17, 2017
Marking 15 Years in Business
Lightning Labels turns 15 this year, celebrating a decade and a half as a leading provider of custom labels and stickers to every kind of organization imaginable. The actual anniversary takes place in May, but instead of setting aside a single day to commemorate this milestone, Lightning Labels plans to spend the next 12 months launching a variety of ambitious projects. These efforts are representative of a company that is always looking forward, acknowledging its history but remaining intent on ensuring customers are well served in the years to come.
A Year of Celebration
Rather than focusing too much on the company itself, Lightning Labels is dedicating its 15th anniversary to their customers. Communications and events will roll out over the course of the year, not just on the actual anniversary date in May. The company wouldn't have made it a decade and a half in the industry without its loyal customer base, meaning it is only fitting to celebrate them.
"We remain committed to our customers, offering them superior quality, personalized customer service and great value. We thank them for 15 years and hope for many more together," said Lightning Labels' Director of Business Development AnneMarie Campbell.
Internal Upgrades Planned
In addition to the upcoming promotional efforts, a host of positive changes and evolutions are debuting throughout 2017. These show that Lightning Labels wants to remain at the top of the market for custom product labels, providing impeccable service and state-of-the-art quality. The following efforts are designed to keep customers happy and ensure the industry-leading reputation Lightning Labels has built over 15 years remains intact well into the future.

An expanded sales team will find the next wave of satisfied Lightning Labels customers.
New equipment will ensure production can keep up with order volume and order turnaround times remain fast.
A larger production facility will make sure Lightning Labels is ready to handle whatever demands come in the next 15 years and beyond.
Everyone Needs Labels and Stickers
Lightning Labels has established a leadership position in its field these 15 years by providing the key element of a company's branding, the label. In an era when getting a name and an image in front of a customer base is absolutely key in winning attention, custom labels are an indispensable tool. By sticking with a formula of company owned and operated equipment with facilities in the United States, Lightning Labels delivers great quality with rapid turn-around time , helping organizations of all kinds keep their branding fresh.
Lightning Labels provides the kind of dedicated customer service and support that goes beyond what any average company with a label printer can offer. Customers are valued as individuals with unique branding needs, and the mix of products and solutions offered by Lightning Labels reflects that. Going into 2017 and beyond, this is the kind of value Lightning Labels offers, venturing beyond simple label maker status and becoming a consultant and true partner for organizations hoping to make their products more attractive and exciting, with explosive sales growth potential.
This is the role Lightning Labels has played for 15 years, and with the support of its loyal customers, it's ready for more.
About Lightning Labels:
Lightning Labels uses state-of-the-art printing technology to provide affordable, full-color custom labels and custom stickers of all shapes and sizes. From small orders for individuals to the bulk needs of big businesses, Lightning Labels is equipped to handle and fulfill custom label and sticker projects of all types. Best of all, like the name implies, Lightning Labels provides a quick turnaround for every customer's labeling needs. Uses for Lightning Labels' custom product labels and custom stickers include food packaging and organic food labels, wine and beverage labels, bath and body labels, and nutraceutical products, such as vitamins, essentials oils, and herbal remedies, as well as event stickers, adhesive window stickers and more. Lightning Labels strongly supports the development of environmentally friendly printing materials and carries EarthFirst PLA, a new kind of green label material made from corn instead of petroleum. While operating as a high-tech printer, Lightning Labels prides itself on its personalized customer service. Lightning Labels provides one stop shopping for all of your custom label and sticker needs. For more information and to place orders online, visit LightningLabels.com. For the latest in packaging news and labeling promotional offers, find Lightning Labels on Twitter (@LightningLabels), Facebook, Pinterest, Google+ and LinkedIn.