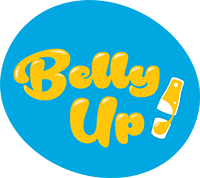 MINNEAPOLIS, MN (PRWEB) January 11, 2017
From signature cocktails to a frosted glass of specialty craft beer, those seeking new flavors and experiences need look no further than Belly Up!, a drink club that supports local and handcrafted cocktails and specialty craft brews. Belly Up! has partnered with premier restaurants, bars, taprooms and distilleries to provide their members complimentary drinks. With an annual membership, members can get options of either 25 signature cocktails, 25 craft brews, or 25 of each (50 altogether), which can be redeemed throughout 2017. Memberships also include gift packs of local artist-designed glassware (Scott Seekins, Mike Davis, designer of MilkJam Creamery, and David Witt to name a few). Belly Up! Club annual memberships are now available online at GetBellyUp!
Featuring a mobile-redemption model, Belly Up! members only need their smartphone with them to redeem their free drinks. Members simply log in, select the venue, and show their phone to the bartender who taps 'redeem' and pours their drink. A limited number of each membership package is now available. 2017 redemptions begin February 1, 2017 and may be redeemed through December 31, 2017. It's like having 25 free drinks in your pocket.
Three annual memberships are available:

Beer Belly: Built for beer enthusiasts, the "Beer Belly" includes complimentary craft beers at twenty five (25) popular, beer-centric venues and a member gift of a 4-pack of local-artist designed pint glasses delivered to members doors. Only $35 ($215 value)
Booze Belly: Designed for craft cocktail enthusiasts, the "Booze Belly" includes a complimentary craft cocktail at twenty five (25) venues and a member gift of a 4-pack of local-artist designed hi-ball glasses. Only $55 ($315 value)
Best Belly: Combines the benefits of both the Beer Belly and Booze Belly memberships and saves. Members receive 25 beers, 25 cocktails (50 drinks total), 4 pint glasses, and 4 hi-ball glasses: Only $85. ($530 value)
About Belly Up!
Belly Up! was founded on a mission to introduce craft beer and cocktail enthusiasts to venues they may have never visited and to drinks they may have never tried, at a price that is almost free. Belly Up! strives to advance the craft community through encouraging people to get out on the town and discover new experiences. Learn more at: http://getbellyup.com