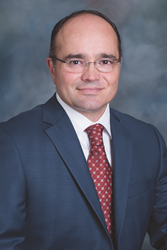 "Diseases of the thyroid gland are very common and affect millions of Americans," Dr. Peters said.
(PRWEB) January 11, 2017
Those suffering from diseases of the thyroid gland have trusted the expertise of Ocean Otolaryngology Associates, P.A. in Ocean County, NJ, for nearly 15 years. Bruce W. Peters, DO, FACS, Christina Gillespie, MD, and Stephen Kupferberg, MD, FACS, board certified otolaryngologists at Ocean Otolaryngology Associates, shed light on common thyroid issues and treatment options affecting the world today.
What are the most common thyroid disorders?
"Diseases of the thyroid gland are very common and affect millions of Americans," Dr. Peters said. Typical thyroid problems include: Overactive glands called hyperthyroidism (i.e., Graves disease, toxic adenoma or toxic nodular goiter); underactive glands called hypothyroidism (i.e., Hashimoto's thyroiditis); thyroid enlargements, and thyroid malignancy.
How is a diagnosis made?
The diagnosis of a thyroid abnormality or a thyroid mass is made by taking a medical history and physical exam, according to Dr. Gillespie. In addition, blood tests, imaging studies or fine-needle aspirations may be required.
Dr. Gillespie also notes that your physician may order the following tests to confirm the diagnosis: The evaluation of the larynx/vocal cords with a fiberoptic telescope; an ultrasound examination of your neck and thyroid; blood tests of thyroid function; a nuclear thyroid scan; an ultrasound guided fine-needle aspiration biopsy; a CT, or MRI scan of the neck.
What are thyroid nodules?
Thyroid nodules are very common, occurring in 15-64 percent of people of all ages, according to Dr. Peters. They occur in both women and men, but are especially common in women.
Patients and their physicians usually notice thyroid nodules during a routine physical exam of the neck area. Sometimes they are found incidentally during a CT scan, X-ray, MRI or ultrasound. "Although the vast majority of thyroid nodules are benign, the physician should evaluate a significant thyroid nodule, as approximately 5-10 percent of thyroid nodules are cancerous," Dr. Peters added.
When is thyroid surgery necessary?
Nodules that are suspicious or cancerous on biopsy require surgical removal, according to Dr. Kupferberg. "Large nodules that produce excess thyroid hormones may also need to be removed," he added.
Thyroid surgery is an operation to remove part or all of the thyroid gland. It is performed in the hospital and general anesthesia is usually required. "Typically, the operation removes the lobe of the thyroid gland containing the suspicious nodule or lump," Dr. Peters said. "A frozen section may be used to determine if the rest of the thyroid should be removed during the same surgery."
"As an alternative, your physician may choose to remove only one lobe and wait for the final pathology report before deciding if the remaining lobe needs to be removed," Dr. Peters said. "If a malignancy is identified in this way, your doctor may recommend that the remaining lobe of the thyroid be removed at a second procedure."
What happens after thyroid surgery?
The surgery usually takes 2-3 hours, and most patients are watched carefully in the hospital overnight, according to Dr. Kupferberg. "The pain is often minimal, and most patients take 4-7 days off from work, longer from strenuous activities. Neck incisions typically heal extremely well."
About Ocean Otolaryngology
Ocean Otolaryngology Associates, P.A. is a respected provider of ear, nose and throat care serving Toms River, Whiting, Brick and surrounding areas. Ocean Otolaryngology's board certified physicians have extensive training and clinical experience and pursue ongoing education to stay abreast of the latest trends. A wide range of services, including treatment of sinus disease, thyroid disease, hoarseness, hearing loss, childhood ENT disorders and nasal breathing difficulty are provided at the practice's three Ocean County locations. To learn more about Ocean Otolaryngology Associates, P.A., visit http://www.oceanentfacialplastics.com or call 732-281-0100.