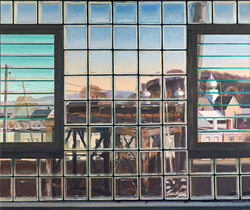 New York, NY (PRWEB) January 11, 2017
John Moore will be showing a collection of paintings at 527 Madison Avenue in the Lobby Gallery from January 11 – May 12, 2017 as part of the building's ongoing program showcasing noteworthy emerging and mid-career artists. Located at 54th Street and Madison Avenue, the exhibition is open to the public 9 a.m. – 5 p.m., Monday through Friday. 
With a career spanning over four decades, John Moore is considered an acclaimed contemporary realist, exploring interiors, urban architecture and post-industrial landscapes. Moore uses carefully controlled brushwork to precisely describe his subject matter, but employs layers of contrasting hues to imbue his paintings with atmospheric effects. The results are complex scenes that evoke a strong sense of place and an emotional response.
The six paintings on view at 527 Madison all depict interiors of abandoned industrial spaces with windows that look out onto landscapes and cityscapes. There are no people in these works, as is typical of Moore, but the powerful architecture serves to reflect on the celebrated industrial era of human productivity. The stillness is at odds with the former use of these now idle factories and warehouses. The paintings at once offer a poignant reminder of a bygone economy, while also offering hope.
"The luminosity of his paintings bring vibrancy to what are now defunct and obsolete places, in a contemplative and somewhat uplifting way that honors America's golden industrial age," says Jay Grimm, the art consultant for 527 Madison.
Moore holds an MFA from Yale University and has received numerous accolades for his work, including the Academy Award in Art from the American Academy of Arts and Letters and a NEA Visual Artists Fellowship. He is a member of the National Academy of Design and, for many years, was the Chair of the Department of Fine Arts at the University of Pennsylvania. Moore's work is held the Museum of Fine Arts, Boston; the Metropolitan Museum, New York; and the Pennsylvania Academy of Fine Art, Philadelphia; among other public institutions. Moore is represented by Hirschl & Adler Modern Gallery in New York City.
# # #
About 527 Madison Avenue
527 Madison Avenue, located at the corner of 54th Street in New York City, is a boutique commercial office building designed by celebrated architectural firm FXFOWLE. Completed in 1986, it is owned by an affiliate of Mitsui Fudosan America, Inc., which recently invested in significant upgrades including elevator modernization and a new MdeAS-designed lobby.
About Mitsui Fudosan America, Inc.
Mitsui Fudosan America, Inc. (MFA) is a real estate investment and development company headquartered in New York City and is the U.S. subsidiary of Mitsui Fudosan Co., Ltd. – Japan's largest publicly traded real estate company. MFA's history in the United States dates back to the early 1970s. Since its inception, MFA has acquired and developed numerous office, multifamily and hospitality properties in major markets throughout the U.S. In addition to its significant portfolio of office buildings, MFA recently expanded its development platform, with several office and multifamily development projects launched in New York, Seattle, San Francisco, and Washington D.C.