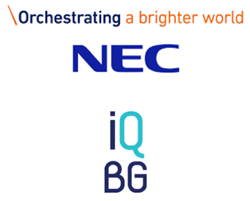 We look forward to servicing our public-sector clients, specifically in government and healthcare, with better pricing and security. -Michael Beck, CEO of IQBG
Irving, Texas & McLean, Virginia (PRWEB) January 12, 2017
IQBG Inc., a leading information management provider for public sector and highly regulated industries, has selected NEC Corporation of America (NEC) as its primary cloud service provider for its U.S. customers. NEC is a leading provider and integrator of advanced IT, communications, networking and biometric solutions with more than 100 years of expertise.
"The IQBG cloud utilizes the best-of-breed cloud service providers," said Michael Beck, CEO of IQBG. "We're excited to have selected NEC as our U.S. partner and look forward to servicing our public-sector clients, specifically in government and healthcare, with better pricing and security that will result from this technological pairing."
Beck said the company's early successes in helping government clients reach compliance under the Federal Information Security Management Act of 2002 (FISMA) was an important element of the partnership with NEC. In 2012, IQBG's eERDMS program was the first to become an FISMA-compliant, software-as-a-service (SaaS) cloud solution that addresses an entire Cabinet federal agency for information governance.
"We are confident in IQBG's ability to provide cloud services to customers," said Taichiro Hashizawa, executive vice president, NEC Corporation of America. "IQBG has the proven record of providing higher levels of security for customers in the cloud. They have demonstrated an ability to address specific end-user requirements of both public- and private-sector organizations."
Unlike traditional, on-premise ECRM software models, IQBG's cloud-based ECRM solutions eliminate the need to internally host and maintain the application. This flexibility creates an affordable, predictable fee model and generates a realizable return on investment for its customers.
In June of last year, NEC made another strategic move into high-security private cloud services when it chose Iron Mountain as the primary co-location provider for its SAP HANA® Hosting, and Application Services. Selecting Iron Mountain's secure underground data center in Western Pennsylvania (WPA-1) helped NEC achieve SAP-certified HANA Operations, Hosting, and Application Management Service status. Additionally, NEC officials note that the IQBG partnership in delivering leading Enterprise Content Management services for OpenText will be similarly appealing to enterprise customers.
Additional resources:

###
About IQBG:
IQBG is a leading provider of Enterprise Information Management solutions for government, healthcare, and highly regulated industries. IQBG navigates, organizes, and analyzes the massive amount of information and data that organizations deal with every day, saving clients time and money. Their cloud-based solutions enable information governance across a variety of commercial and government applications - from government, to healthcare and commercial industries.
About NEC Corporation of America
NEC Corporation of America (NEC) is a leading technology integrator providing solutions that improve the way people work and communicate. NEC delivers integrated Solutions for Society that are aligned with our customers' priorities to create new value for people, businesses and society, with a special focus on safety, security and efficiency. We deliver one of the industry's strongest and most innovative portfolios of communications, analytics, security, biometrics and technology solutions that unleash customers' productivity potential. Through these solutions, NEC combines its best-in-class solutions and technology, and leverages a robust partner ecosystem to solve today's most complex business problems. NEC Corporation of America is a wholly-owned subsidiary of NEC Corporation, a global technology leader with a presence in 160 countries and $25 billion in revenues. For more information, please visit http://www.necam.com.