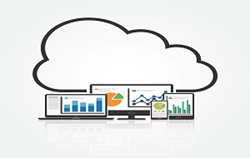 Boulder, Colol. (PRWEB) January 12, 2017
Enterprise Management Associates (EMA), a leading IT and data management research and consulting firm, today announced it will host a webinar titled "How Analytics Optimize Migration to Amazon Web Services, Microsoft Azure and Other Public Clouds" featuring Torsten Volk, managing research director of hybrid cloud, software-defined infrastructure and machine learning at EMA, and Andrew Hillier, CTO at CiRBA.
The question of whether to transition enterprise applications to the cloud is a valid question in most organizations. Determining which applications should go and how to maintain control once they are there, however, is slowing down the journey to the cloud.
The sheer complexity of assessing fitness for the cloud and the right hosting model options, all while maintaining security, scalability and performance, creates anxiety and uncertainty around decisions. In addition, costs for public cloud use are spiraling out of control. Research from EMA shows an average of 50% in over-provisioned cloud and data center infrastructure. Moreover, it is not uncommon for applications to exceed their monthly Amazon or Microsoft cost estimates by more than 100%.
During this webinar, Volk and Hillier will discuss how to:

Assess how much of an organization's infrastructure should go to the cloud and identify which enterprise apps are suitable
Avoid the common mistakes and reduce risk in the transformation to cloud
Determine which provider and hosting model is best for an organization's workload
Benefit from the different cost structures of Amazon, Azure, Softlayer, VMware and other clouds
Lower infrastructure, licensing and operations cost by up to 50%
Balance CAPEX and OPEX when making cloud deployment decisions
The webinar is Tuesday, January 24, 2017 at 1:00 p.m. Eastern. Those who wish to attend can register at: http://research.enterprisemanagement.com/how-analytics-optimize-migration-to-public-clouds-webinar-pr.html
About EMA
Founded in 1996, Enterprise Management Associates (EMA) is a leading industry analyst firm that specializes in providing deep insight across the full spectrum of IT and data management technologies. EMA analysts leverage a unique combination of practical experience, insight into industry best practices, and in-depth knowledge of current and planned vendor solutions to help its clients achieve their goals. Learn more about EMA research, analysis, and consulting services for enterprise line of business users, IT professionals and IT vendors at http://www.enterprisemanagement.com or blogs.enterprisemanagement.com.