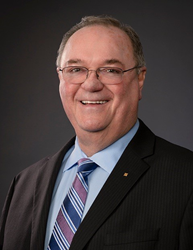 Pomona, CA (PRWEB) January 11, 2017
Western University of Health Sciences' Board of Trustees has named FamilyCare Health co-founder Jeff Heatherington as its newest member.
Portland, Oregon-based FamilyCare Health is a Medicare and Medicaid managed care organization providing health plan services to approximately 125,000 members. Heatherington, who is president and CEO of FamilyCare Health, has a history with WesternU's College of Osteopathic Medicine of the Pacific (COMP) that dates to its founding in 1977. While serving as director of the Osteopathic Physicians and Surgeons of Oregon, Heatherington helped bring together Western University of Health Sciences and Samaritan Health Services to build the COMP-Northwest campus in Lebanon, Oregon.
"As our presence in the Northwest continues to grow, we felt a need to get representation from the Oregon area," said WesternU Board of Trustees Chairman Richard Bond, DO, DrPH. "We felt that Mr. Heatherington would be a good fit for our board because of his long-term presence in the Northwest. He will bring a fresh business perspective in our efforts to include the Northwest on our board."
FamilyCare Health is the only osteopathic HMO in the United States, and osteopathic medicine has been a key element of its philosophy of care since its inception. Heatherington's father, J. Scott Heatherington, DO, was a central figure in Oregon's osteopathic medical profession.
"Osteopathic medicine has been important to me both personally and professionally," Heatherington said. "I'm honored to join the Board and I look forward to supporting the university and future generations of medical providers."
###
About Western University of Health Sciences
Western University of Health Sciences (http://www.westernu.edu), located in Pomona, Calif. and Lebanon, Ore., is an independent nonprofit health professions university, conferring degrees in biomedical sciences, dental medicine, health sciences, medical sciences, nursing, optometry, osteopathic medicine, pharmacy, physical therapy, physician assistant studies, podiatric medicine and veterinary medicine. WesternU is home to the Patient Care Center, where the best in collaborative health care services is offered. The Chronicle of Higher Education named WesternU a Great College to Work For in 2012, 2013, 2014, 2015 and 2016.