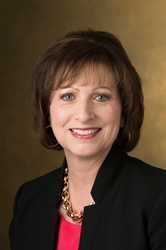 ...testimony to the hard work and dedication of our faculty in providing a high-quality, affordable and accessible education to students throughout the region
Edwardsville, Ill. (PRWEB) January 11, 2017
Southern Illinois University Edwardsville's School of Nursing's RN to BS jumped 22 percent in the U.S. News & World Report annual ranking of top online bachelor's programs. In its 2017 Best Online Bachelor's Programs list released January 10, U.S News ranked the program 68th among 308 schools nationally, placing it among the top five online bachelor's programs in Illinois.
Dr. Laura Bernaix, dean of the School of Nursing, said the U.S. News rankings reflect the School's continued commitment to providing excellent academic programs that prepare nurses to practice in a challenging and dynamic healthcare environment.
"To see such a dramatic improvement in rankings in only our second year of participating in this survey is quite an honor," Bernaix said. "This accomplishment is a testimony to the hard work and dedication of our faculty in providing a high-quality, affordable and accessible education to students throughout the region."
Rankings for the top online learning programs were based upon faculty credentials and training, student engagement, admissions selectivity, peer reputation, and student services and technology.
The full rankings are available at usnews.com.
The SIUE School of Nursing's fully accredited programs are committed to creating excellence in nursing leadership through innovative teaching, evidence-based practice, quality research, patient advocacy and community service. Enrolling nearly 1,400 students in its baccalaureate, master's and doctoral programs, the School develops leaders in pursuit of shaping the nursing profession and impacting the health care environment. SIUE's undergraduate nursing programs on the Edwardsville campus and the regional campus in Carbondale help to solve the region's shortage of baccalaureate-prepared nurses and enhance the quality of nursing practice within all patient service venues. The School's graduate programs prepare nurses for advanced roles in clinical practice, administration and education.
-SIUE-
Photo: Dr. Laura Bernaix, dean of the SIUE School of Nursing.