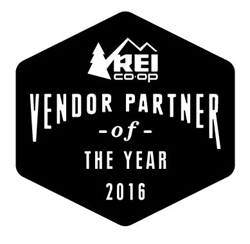 Salt Lake City (PRWEB) January 11, 2017
Each day, leading outdoor retailer REI offers top gear and apparel from thousands of established and up-and-coming outdoor brands. During the Outdoor Retailer Winter Market trade show, REI recognized vendor partners who have made a significant impact to the co-op's mission with its Vendor Partner of the Year awards. This year, the co-op also recognized the inaugural winner of the REI Root award, which celebrates industry-leading sustainable product design.
REI Vendor Partner of the Year Awards
Brooks, headquartered in Seattle, Wash., received the co-op's overarching Vendor Partner of the Year award for its partnership to consistently provide best-in-class product, superior customer service and support across the co-op's many programs.
"Brooks' partnership with the co-op stood out all year. Their efforts to support and collaborate with REI's teams consistently went above our expectations," said Susan Viscon, REI's senior vice president of Merchandising. "Its commitment to the co-op is evident throughout the organization; whether visiting our store teams for training clinics or events, or partnering with us on larger integrated marketing campaigns like OptOutside, Brooks' partnership is second to none."
The following vendor partners were also named divisional winners for the year:

Actionsports: GHOST-Bikes GmbH (Waldsassen, Germany) in partnership with Accell North America (Kent, Wash.)
Outdoorwear: Oboz (Bozeman, Mont.)
Camp/Climb: Petzl (Salt Lake City)
The Vendor Partner of the Year awards program was established by REI in 1993. Each year, companies are nominated by the co-op's three merchandising divisions – Camp/Climb, Actionsports and Outdoorwear – for partnering with REI to meet customer needs, raise the bar for product quality and drive sustainable business practices.
REI Root Award
The co-op's Root Award was created in 2016 to celebrate the gritty, below-the-surface determination that drives sustainability innovation in the outdoor industry.
This year, REI recognized the Columbia OutDry Extreme ECO Jacket, a high performance, waterproof, breathable jacket made without perfluorinated compounds (PFCs) or dyes. The OutDry Extreme ECO is made from 21 recycled plastic bottles and is a bluesign® certified product, further lowering the jacket's scientifically measured environmental footprint. To learn more about the OutDry Extreme ECO story, please visit http://blog.columbia.com/preview-outdry-extreme-eco/.
"Sustainability is a core value for REI and our members. We have a unique opportunity to recognize sustainable product breakthroughs and to scale how these breakthroughs impact the broader outdoor industry," said Vik Sahney, REI's divisional vice president of Sustainability. "We applaud Columbia for taking a scientific life-cycle based approach to designing a classic outdoor product—the rain shell—and creating a breakthrough in sustainability performance."
About REI
REI is a specialty outdoor retailer, headquartered near Seattle. The nation's largest consumer co-op, REI is a growing community of more than 6 million active members who expect and love the best quality gear, inspiring expert classes and trips, and outstanding customer service. REI has 149 stores in 36 states. If you can't visit a store, you can shop at REI.com, REI.com/REI-Garage or the free REI shopping app. REI isn't just about gear. You can take the trip of a lifetime with REI Adventures, a global leader in active adventure travel that runs 170 custom-designed itineraries on every continent. REI's Outdoor School is run by professionally-trained, expert-instructors who teach beginner- to advanced-level courses about a wide range of activities. To build on the infrastructure that makes life outside possible, REI invests millions annually in hundreds of local and national nonprofits that create access to–and steward–the outdoor places that inspire us.
# # #