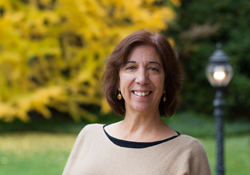 Menlo Park, California (PRWEB) January 11, 2017
Dreyfus Sotheby's International Realty is thrilled to welcome Marian Bennett to the brokerage's Menlo Park office. Marian is a top sales associate living and working in the Half Moon Bay area and joins Jakki Harlan as Coastside representatives for Dreyfus Sotheby's International Realty.
The firm was attracted to Marian because of her personal touch with clients and deep knowledge of the Coastside communities she represents: Half Moon Bay, El Granada, Moss Beach and Montara. Her track record spans over a decade of deep engagement in residential real estate and shows her consistent efforts to expand her knowledge and hone her skills, all with a bedrock commitment to integrity and professionalism.
A Bay Area native raised in Marin County, Marian Bennett has lived most of her adult life in San Mateo County. Settling in Half Moon Bay in 1989 as a temporary "affordable" stop during the 1989 housing boom, she soon found herself captivated by the ocean breezes and small town charm. She is passionate about bringing the special nature of the Coastside to both visitors and buyers.
Get to know Marian Bennett (and the Coastside) better by visiting: http://mariansbennett.com/
About Dreyfus Sotheby's International Realty (http://dreyfussir.com) – Dreyfus Sotheby's International Realty is a leading luxury real estate brokerage specializing in sales and purchases of homes in the mid-Peninsula/Silicon Valley area. The global platform of Sotheby's International Realty, combined with Dreyfus' local expertise and understanding of the region, affords their clients the best of local and international representation and exposure. Within the Sotheby's International Realty network, over 150 independent luxury brokerages work together managing more than $100 billion in annual real estate sales.