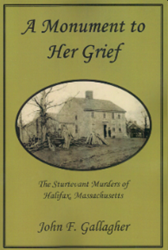 Boston, Massachusetts (PRWEB) January 11, 2017
After spending 29 years with the Boston Police Department working his way up the ranks from sergeant to lieutenant detective and eventually superintendent, John F. Gallagher is excited to announce the release of his third true crime book, titled A Monument to Her Grief: The Sturtevant Murders of Halifax, Massachusetts.
A tragic incident that has become local lore, the book recounts the brutal triple murder of three elderly people at their rural farmhouse in Halifax, Massachusetts in 1874. Gallagher used his many years of investigative experience to research the holdings of the Halifax Historical Society and Museum, contemporaneous news accounts, court and prison records, archival manuscripts, case law and other documentary evidence to offer the first in-depth look at murders that forever changed the small town.
The goal for this book, like others written by Gallagher, is not only to document local history, albeit dark, but also to honor the memory of the victims of long forgotten murders. His two other books, Arsenic in Assinippi: The Trial of Jennie May Eaton for the Murder of Her Husband, Rear Admiral Joseph Eaton and A History of Homicide in Hanover: Murder on Broadway, take readers on a similar journey.
A Monument to Her Grief: The Sturtevant Murders of Halifax, Massachusetts is available now for a retail price of $12.95 (paperback) and $3.99 (e-book) and features 263 pages. The book can be purchased on Amazon, through the publisher's website (riverhavenbooks.com) or on Mr. Gallagher's personal site: http://www.gallagherbook.com
About John F. Gallagher:
John F. Gallagher served nearly thirty years on the Boston Police Department and retired at the rank of superintendent. As a command staff member, he was the department's chief of detectives. His interest in history and genealogy and his background in criminal investigation motivated him to write about century-old murders on the South Shore.
Contact:
John F. Gallagher
Jgalla1295(at)aol(dot)com
781-733-2460
http://www.gallagherbook.com