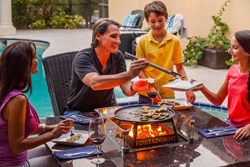 Orlando, FL (PRWEB) January 11, 2017
The 2016 year was a whirlwind of successes for Orlando-based fire pit table manufacturing company Firetainment Inc. As well acquiring partnerships to bring their fire pit table line to Canada and Mexico, the manufacturing company's fire elements were hand selected by Phil Kean for a feature in his design of the New American Home at the 2017 International Home Builder's Show.
Due to this period of great growth and achievement, Firetainment recently announced their attendance to the 2017 Winter Las Vegas Market, set to be held in Las Vegas, Nevada January 22 - January 26, 2017.
Firetainment will showcase eight new features, accessories, and additions to their popular collection of outdoor fire pit tables. These features and many more are available at Firetainment's 200+ dealer locations across the U.S, Canada, and Mexico.

The Sierra 36" Round Fire Pit Table
'White' Base Powder Coat
GFRC Concrete table tops in 36" round, 36" square, 42" round, & 42" square (available in colors grey, beige, and off white)
New Door Assembly on fire pit table base enclosures
Fire Glass options will now be packaged in 20 pound bags to increase oxygen for a beautiful flame every use
Rectangle Cooking Package
New Fiber-Glass base design featuring two shapes, round and square
'Round' Wind Guard
 
Throughout the 2017 calendar year, Firetainment is scheduled to release more fire pit table designs and product features. You can visit Firetainment at the 2017 Winter Las Vegas Market at Booth #C13-1005.
About Firetainment Inc.
Founded in 2010, Firetainment Inc. designs and manufactures granite, concrete and copper top fire pit tables for home and commercial outdoor use out of their Orlando manufacturing center. Known as "The Fire Pit Table That Cooks.", Firetainment's fire elements are one of the most unique outdoor living products on the market today, combining the use of a patio table, hibachi grill, and fire pit, all in one piece of outdoor furniture.
Firetainment's fire pit tables have been featured on networks & television shows such as HGTV, DIY, and The Price is Right, as well as many other featured publications within the outdoor industry.
For more information on Firetainment Inc. follow @Firetainment on Twitter and Like them on Facebook.