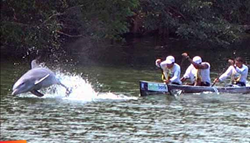 Supporting the environment and local communities while contributing to the economy is the very definition of a win-win situation
San Ignacio, Belize (PRWEB) January 12, 2017
The United Nations' designation of 2017 as the "International Year of Sustainable Tourism for Development" can have far reaching positive effects on Belize and global tourism, especially if the industry and travellers embrace the tenets of responsible travel, according to The Lodge at Chaa Creek.
Lucy Fleming, who with her husband Mick started Chaa Creek as one of Belize's first eco-resorts in 1981, said the importance of the UN designation cannot be overemphasised, as sustainable tourism will continue to effect so many people around the world.
And, the little country of Belize is a prime example of the success of, and the need for sustainable tourism, she added.
"Since Belize achieved independence in 1981, we've seen how tourism has raised the standard of living and improved the lives of so many Belizeans. But we've also recognised that tourism, and the environment that supports it, are finite and even fragile resources that must be carefully managed.
"Being a relatively new industry in a newly independent country, we've been fortunate to be able to develop along the lines of sustainable tourism and responsible travel, and this has provided benefits for environment, the people of Belize, and the thousands of visitors who enjoy pristine natural surroundings, well maintained ancient Maya temples and archaeological sites and access to friendly, welcoming villages and communities," Ms Fleming said.
The challenge, she added, is to ensure that those things that attract a growing number of people to Belize will last into the future, and that's why sustainable tourism is such a vital issue.
"We see the effects of sustainable tourism every day, year in and year out, and understand that it is much more than a catchphrase," Ms Fleming said.
The UN 70th General Assembly designated 2017 as the "International Year of Sustainable Tourism for Development" as a way to raise awareness while "Mobilising all stakeholder to work together in making tourism as catalyst for positive change," according to a UN media release.
Noting that tourism accounts for seven per cent of worldwide exports, one in eleven jobs and 10% of the world's GDP, the United Nations World Tourism Organisation (UNWTO) said a well-managed tourism sector can "foster inclusive economic growth, social inclusiveness and the protection of cultural and natural assets."
The organisation identified five key areas the international year will promote:

Inclusive and sustainable economic growth,
Social inclusiveness, employment and poverty reduction;
Resource efficiency, environmental protection and climate change;
Cultural values, diversity and heritage; and
Mutual understanding, peace and security.
Ms Fleming said the areas dovetail with Belize's and Chaa Creek's own approach to sustainable tourism.
"Each of these key areas have particular relevance here in Belize, and are part of our own commitment to responsible travel. Sustainable growth is vital to our future, inclusiveness and poverty reduction sustain the happy and healthy society that tourists find so attractive, our culture based tours such as the Belize Cultural Grand Tour and excursions to ancient Maya temples foster understanding of the world's shared history, and, with the second largest barrier reef in the world, climate change is a big issue," she explained.
The Lodge at Chaa Creek was the first Belizean business to be Green Globe certified and was recently announced as a finalist for National Geographic's 2017 World Legacy Awards, being one of only three finalists worldwide in the "Engaging Communities" category in recognition of providing "… direct and tangible economic and social benefits that improve local livelihoods, including training and capacity building, fair wages and benefits, community development, health care, and education."
Ms Fleming said that recognition, along with a host of other awards, proves that an eco-resort can be green while providing an exceptional level of quality and service.
"We of course take pride in having garnered so much recognition and so many awards over the years; not for their own sake, but to act as a model for sustainable development and show that environmentally friendly, responsible tourism attracts visitors and can actually contribute to a businesses' bottom line.
"Supporting the environment and local communities while contributing to the economy is the very definition of a win-win situation, and that, for us, our 160 member staff and the thousands of visitors we welcome each year is a ringing endorsement that sustainable tourism works, and works well," Ms Fleming said.
Information about the International Year of Sustainable Tourism can be found online, and further details about Chaa Creek's programs, including "Chaa Creek Cares", which sees ten percent of all room revenue going directly into environmental and community projects can be found on the eco-resort's website, she added.
The Lodge at Chaa Creek is a multi award winning eco resort set within a 400-acre private nature reserve along the banks of the Macal River in Belize. It is currently a finalist for National Geographic's 2017 World Legacy Awards.
ENDS