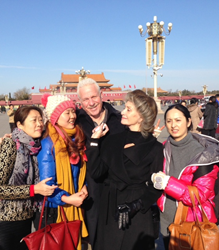 Grants Pass, OR (PRWEB) January 11, 2017
As premiere American water advocate and researcher, Sharon Kleyne, guides her company, Bio-Logic Aqua® Research Water Life Science®, and its signature product, Natures Tears® EyeMist® into the vast Chinese marketplace, she called admiring attention on air to that government's effort to clean up a major international scandal that threatens the global economy.
Sharon Kleyne, host of the nationally syndicated radio program, The Sharon Kleyne Hour Power of Water, Global Climate Change and Your Health on Voice America, specifically took to the air to encourage Chinese leaders and business people to continue to ramp up their attacks on unscrupulous counterfeiters who often flood Chinese markets with inferior, knock-off products. "Thus kind of counterfeiting," said Kleyne, "is the ultimate attack against the protection and integrity of a country's or a company's IP, and it must be stopped." Fortunately, Kleyne points out, that is beginning to happen as Chinese officials and leaders of major enterprises (such as Jack Ma at Ali Baba) aggressively file lawsuits against counterfeiters, who will be punished and driven out of business.
"China's vast middle class is growing exponentially," said Sharon Kleyne, "and with that growth comes more sophisticated taste. For instance," Kleyne continued, "Chinese consumers realize now that cheaper, knock-off counterfeit products possess much less quality than the real thing. Those consumers want the real thing, and they want to be protected against IP pirates."
Sharon Kleyne is always educating people about the dangers and supplementation of dry eye disease, the current global water crisis and the health dangers associated with dehydration due to excess evaporation of the earth's water vapor. As she always does, Kleyne encouraged people to experience a new, healthy Water Life Science® lifestyle and visit http://www.biologicaqua.com/ for more information. She also urged her listeners to educate themselves about the perils of counterfeiting and IP abuse. "Quality products can be hard to come by," said Kleyne, "when counterfeiters and IP thieves are allowed to run wild." Yet now, Kleyne says that she is increasingly optimistic about the steps she sees being taken by the Chinese government and business leaders.
Over more than two decades, Sharon Kleyne has earned an international reputation as the global expert on dehydration of earth's fresh water and dehydration of the eyes and skin as a result of the excessive evaporation of the body's water vapor. "From the moment we leave our mother's water-womb and are born," Kleyne said, "we begin to evaporate, or dry out, a process that continues until we die. In order to sustain excellent health and prolong life," Kleyne continued, "one must supplement eyes and skin on a daily basis. This must be done to replenish the evaporating water vapor." Kleyne reminded her radio audience, for example, that dry eye disease exceeds all other diseases that ophthalmologists and optometrists diagnose and treat each year, and the numbers continue to climb with aging populations. Dry eye afflicts more than 30 million Americans and an astonishing 250 million Chinese each year. Dry eye symptoms include blurred vision, redness, burning, itching, stinging, a gritty sensation and watery eyes. These symptoms are triggered by a number of causes including pollution, allergies, post-menopausal changes, windy conditions, computer use, reading, television viewing and artificial environments (air conditioning, central heating). Dry eye disease occurs when the tear film lens, which is 99% water, loses moisture due to evaporation.
"Protecting our IP," Sharon Kleyne said, "has allowed us to develop quality products that supplement the eyes and skin. For instance," she said, "Nature's Tears® EyeMist® is applied with a personal hand-held humidifying device emitting a pure, pH balanced, 100% Trade Secret tissue culture grade water in a patented micron mist." Nature's Tears® EyeMist® is the only product on the international market that supplements the eye's tear film, which is 99 percent water, and it is endorsed by more than 22,000 ophthalmologists and optometrists nationwide. The product was successfully test-marketed in more than 70,000 outlets. As this product launches in China, Kleyne said she was thrilled to see the government crack down on potential knock-off artists and counterfeiters. "Everyone benefits," said Kleyne, "especially consumers."