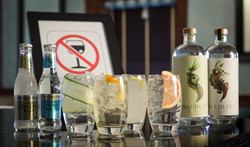 "There is widespread perception that there's a limited selection for non-alcohol drinkers, yet there's never been a greater choice." Chris Eigelaar, QHotels' Group Director of Food & Beverage
(PRWEB UK) 11 January 2017
Water, cola, squash, orange juice and tea are the top five soft drinks of choice when going dry in January but almost a third of people would go dry more often if there was a wider choice of more interesting non-alcoholic drinks to choose from according to a new survey commissioned by QHotels.
In the national survey, conducted by OnePoll, over 55% of 2,000 respondents stated they didn't think bars and pubs promoted their range of non-alcoholic drinks sufficiently, with over a quarter saying they find it difficult knowing what to order at a bar when they're not drinking alcohol.
The survey also revealed that 39% would consider going to a non-alcoholic bar. People in the West Midlands were the most enthusiastic with 47% saying they would, followed by 45% of Londoners and 42% of those in East Anglia. The proportion of women expressing this view was 46%, which was markedly higher than the figure of 32% for men and a fifth of respondents thought all bars should have a "non-alcoholic area".
When asked what they thought bars and pubs should do for non-alcohol drinkers, in order of preference, respondents chose: cheaper prices, special offers, more obvious advertising, non-alcoholic menus and a wider choice available.
With over 20% saying they have given up alcohol for January and 41% cutting down, QHotels, which has 26 luxury hotels nationwide, has launched a Dry Bar menu compiled in conjunction with Fever-Tree, producer of all natural premium mixers and Seedlip, the world's first non- alcoholic spirit. The 'dry' drinks menu, which will be available throughout 2017, offers a more sophisticated non/low alcoholic drinks choice and is available at eight of its largest hotel bars and lounges including: Ashford International Hotel, Kent; Belton Woods, Grantham; Dunston Hall, Norwich; Mottram Hall, Cheshire; Norton Park, Winchester; The Oxford Belfry in Thame, Oxfordshire, Oulton Hall, Leeds and Slaley Hall, Northumberland.
Chris Eigelaar, QHotels' Group Director of Food & Beverage says: "We recognize that a large number of people tend to give up or cut down on alcohol during January but still want to socialize in a bar or pub environment. There is widespread perception that there's a limited selection for non-alcohol drinkers, yet there's never been a greater choice. To help our customers we've therefore created an interesting and more sophisticated 'Dry Bar' menu which will be available throughout the year. Not only will this help those people who have given up alcohol for January but it will also give drivers and non-alcohol drinkers greater awareness of what's available to them."
These research findings coincide with a recent study by Oxford University that found 'drinking in the pub with friends is good for you.'
The top 10 favorite soft drinks people prefer to drink instead of alcohol during January are:
1. Water
2. Cola
3. Squash
4. Orange juice
5. Tea
6. Lemonade
7. Tonic water
8. Coffee
9. Energy drink
10. Alcohol free beer