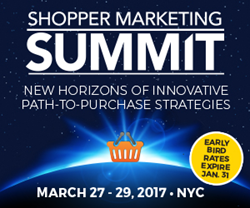 Chicago, IL (PRWEB) January 11, 2017
Registration is now open for the 2017 Shopper Marketing Summit, taking place March 27-29 at the Grand Hyatt in New York City. Summit is the essential gathering for more than 700 senior-level brand manufacturers, retailers and agency professionals who lead path-to-purchase strategies and unlock shopper-centric growth for their organizations.
Summit provides attendees with the high-level education they need to prepare their organizations for success in the future, including three general sessions exploring the future of the retail store, how shopper insights and shopper marketing are going to change, and how Ahold USA is creating lasting customer connections.
Speakers from world-class brands and retailers – including BMW, Chobani, Clorox, Coca-Cola, Mars, Mondelez, Quaker and Sam's Club – will lead 21 breakout sessions on strategies impacting:

Collaboration
Digital and e-commerce solutions
Innovation
Loyalty and personalization
Retail activation
Shopper marketing best practices
A special half-day symposium on technology, innovation and the future of shopper marketing is also available for those who want a deeper understanding of this critical retail industry issue, led by Leo Burnett/Arc Worldwide and SapientRazorfish.
The Shopper Marketing Summit also hosts the Shopper Marketing Celebration, which includes the Shopper Marketing Effie Awards, presented in partnership with Effie Worldwide, and the 2017 Shopper Marketing Hall of Fame induction ceremony. The Effie Awards recognize the most effective integrated marketing campaigns of 2016, and the Hall of Fame will honor these three individuals, as selected by Shopper Marketing magazine editors, for their demonstration of exemplary shopper-centric thinking:

Herbert Smith, VP, Off-Premise Customer Development & Category Management, E. & J. Gallo Winery
Cheryl Williams, Chief Information Officer, Wakefern Food Corp.
Christopher Witte, VP, Shopper & Category Development, Tyson Foods
Discounted early bird rates are available through January 31 at shoppersummit.com.
About the Shopper Marketing Summit
The Shopper Marketing Summit is the essential gathering for senior-level brand marketers, retailers and agency professionals who are responsible for unlocking shopper-centric growth for their organizations. Learn more at shoppersummit.com.
About the Path to Purchase Institute
The Path to Purchase Institute is a global association serving the needs of retailers, brands and the entire ecosystem of solution providers along the path to purchase. It champions shopper-centric thinking and practice that help define the ongoing evolution of consumer marketing and the overall shopping experience. Learn more at p2pi.org.
EnsembleIQ
The Path to Purchase Institute is a division of Ensemble IQ, a premier business intelligence resource that leverages an integrated network of media and information resources to inform, connect and provide actionable marketplace intelligence. Learn more at ensembleiq.com.