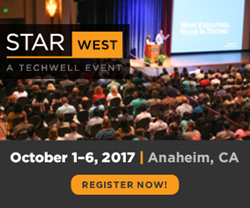 Submit a concurrent session talk before the deadline—February 12, 2017.
Jacksonville, FL (PRWEB) January 16, 2017
Techwell Corporation, an industry leader in software development conferences and training, is looking for concurrent session speakers for STARWEST. The STARWEST conference is one of the longest-running, and most respected events on software testing and quality assurance and to be held October 1–6, 2017 at the Disneyland® Hotel in Anaheim, California.
The submission process takes less than five minutes. Just provide a brief paragraph description of a proposed talk and some biographical information of experience in the field of software testing. Accepted speakers will receive complimentary conference registration (Wed-Thurs) to STARWEST—a $2,195 value.
Suggested session topics at STARWEST include: agile testing, test techniques, DevOps, process & metrics, leadership, project management, test automation, mobile and IoT, personal improvement, and test & QA. Explore last year's concurrent sessions at STARWEST 2016 to gain insight on previously selected sessions.
Proposal descriptions should be around two hundred words. The best descriptions are typically split into two parts. In the first, identify a challenge, problem, or situation for the presentation. In the second, describe a recommended approach to addressing the challenge or solving the problem and what the conference attendees will learn from the talk. Visit the STARWEST speaker tips page for additional information on the submission process.
Submit a talk before the deadline—February 12, 2017.
About TechWell Corporation:
Techwell—through its conferences, training, consulting, community websites, and online resources—helps people and organizations develop and deliver great software. For more information, visit http://www.techwell.com.