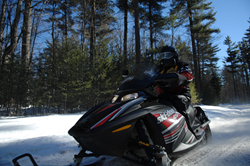 EAGLE RIVER, Wis. (PRWEB) January 12, 2017
To anyone visiting Eagle River in January, it is easy to understand why the area is called the "Snowmobile Capital of the World." Not only is this small Northwoods town home to the sport's most famous event (the World Championship Snowmobile Championship Derby), it is also the epicenter of one of the world's most extensive trail networks, the Eagle River 500.
The iconic "sled" races span two weekends. The 54th Annual Amsoil World Championship Snowmobile Derby Week kicks off with the Vintage World Championship Derby from January 13-15 and concludes with the World Championship Derby held January 19-22. Known as the "Indianapolis 500 of Snowmobile Racing," the event attracts more than 40,000 spectators, as well as racers from Japan, Europe, Canada and across the U.S.
The action isn't just for spectators, though – nor is it only in January. The Eagle River 500 actually offers more than 600 miles of inter-connected trails fanning across Vilas County, many of them running alongside or across the world's largest chain of freshwater lakes.
At the center of the network is a 100-mile section maintained by the Sno-Eagles Snowmobile Club, who keeps the trail in pristine condition using a New Holland tractor. New for 2017 is a rerouted section of the trail on Wisconsin Highway 70W, much of which runs alongside the Wisconsin River.
Recent snowfalls and seasonally cold temperatures have left the Eagle River 500 in top shape. However, visitors can consult a regularly updated trail condition report to stay in the loop about current trail conditions, snow base and expected precipitation.
"We are proud to be the Snowmobile Capital of the World®," said Kim Emerson, executive director of the Eagle River Area Chamber of Commerce. "From the daily trail action to the derby track racing, we are the furthest thing from hibernating in the winter – and the 2017 season looks to only build on that."
Another January highlight will be the 2017 Reunion Torchlight Parade. Sponsored by the Sno-Eagles club, it will take place at 6 p.m. on January 21. Lit by thousands of luminaries, the route will start at the Derby Track and end at the Eagle River Sports Arena, which will host a hockey game between the Eagle River Falcons and the Mosinee Papermakers.
Information about snowmobiling in Eagle River – including trail condition updates, regulations and trail passes – can be found at http://www.eagleriver.org/play/snowmobile.