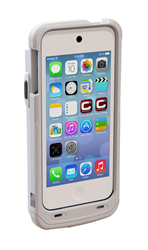 "The CR4300 is not like other hardware or software barcode scanning solutions on the market today." says Code's director of Product Management, John Deal.
Salt Lake City, UT (PRWEB) January 12, 2017
Code announces the release of the CR4300, the newest offering in its expanding mobility product line. The CR4300 case transforms an iPod® into an enterprise-grade data capture device without the size, weight, expense and power draw of a traditional scan engine module.
By eliminating the scan engine module, the CR4300 is a departure from traditional barcode reader sleds. It combines the iPod camera with a patent-pending optical platform and 2D Revolution™, Code's world-class decoding software, to create a user-friendly, high-performance barcode reader. By adding these capabilities to a popular consumer device, the CR4300 gives businesses a streamlined barcode scanner with the ability to run apps on an interface that is familiar to both developers and users.
"The CR4300 is not like other hardware or software barcode scanning solutions on the market today." says Code's director of Product Management, John Deal. "While it lacks the bulk of extra scanning hardware, it doesn't lack the intuitiveness. Users are given a bright targeting bar and integrated scan buttons to easily find and read barcodes without looking at the iPod screen."
Additional product features in the CR4300 include: a 3,000 mAh back-up battery to keep the iPod charged and running on long shifts; lightweight design, totaling just 10.1 oz. with the iPod and battery included; durable, disinfectant-ready case built for harsh environments like healthcare; built-in gauge to keep users informed of battery status; quick charging via USB or multi-bay drop-in charger; unencumbered access to all native iPod functions, including the camera.
See the CR4300 in action in booth 537 at the National Retail Federation Annual Convention & Expo, in New York City, New York, January 15-17, 2017.
About Code:
Code is a technology leader in image-based barcode reading solutions. Code designs and manufactures a complete line of image-based barcode reading hardware and software solutions to enhance productivity and exceed customers' expectations for superior barcode reading performance, ergonomic design, equipment durability, and seamless integration with their operations. Servicing a diverse range of industries and environments, Code's products are used in critical applications in healthcare, public safety, manufacturing, transportation, retail, and a range of other diverse industries.
Code's 2D Revolution™ image processing and decoding solution is the de facto choice for enterprise-grade barcode scanning software technology that enables rapid, accurate decoding of virtually any barcode symbology, of virtually any quality and curvature – every time without fail. As the backbone of Code's product line and with the flexibility to integrate with any device, operating system, and application, 2D Revolution ensures you can reliably capture the barcode data you need, in the way you want, at the pace your business demands. 2D Revolution is the only decoder to support the proprietary GoCode® symbology which uses encryption to secure and prevent illicit reading of sensitive data.
Code's worldwide headquarters are located in Salt Lake City, USA, and has regional headquarters in China, Singapore and The Netherlands. For more information, visit http://www.codecorp.com.
iPod is a trademark of Apple Inc., registered in the U.S. and other countries.