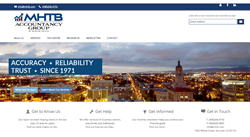 MHTB Accountancy Group of Silicon Valley's new website has a fresh new look with easy-to-use navigation and hosts a wealth of valuable financial information.
San Jose, CA (PRWEB) January 12, 2017
MHTB Accountancy Group of Silicon Valley, formerly known as McCahan, Helfrick, Thiercof & Butera, recently announced its new brand at the end of 2016. Now, with the launch of a new year, the venerable firm of certified public accountants, founded in 1971, today announces the launch of its new dynamic website at: mhtb.com. Formatted for desktop, tablet and smart phone viewing, and coinciding with direct access to an impressive breadth of personal one-on-one services, the new site additionally offers countless online financial tools and resources.
With Time Comes Wisdom
The partners and staff at MHTB continue the firm's long standing tradition of accuracy, reliability and trust that originated nearly 50 years ago when it was founded in the days before Silicon Valley was a place with a name. However, those founding values of unwavering professionalism steadfastly remain with this venerable accountancy group, strategically adapting to the myriad changes the San Francisco South Bay Area and its residents and businesses have experienced over time. And, during that time, the cumulative wisdom, knowledge and talent maintained by the firm is now made easily available with the new MHTB website.
Client-first Access To MHTB's Accounting Pros & Services
Aside from the obvious benefits of an appealing, open and uncluttered design, MHTB's new online Web presence has also been designed to be easily accessible for new clients and existing clients alike. According to MHTB managing partner Angelo Pezzoni, C.P.A., "We pride ourselves on being accessible and responsive to our prospective and existing clients' needs. We provide direct e-mail links to each of us in our online biographies, and we'll promptly respond to incoming calls or reply to voice messages as quickly as possible." In support of this high level of communication, a general contact link is also provided in numerous locations throughout the site that directs the inquirer to the best match to their specific needs.
Secure sign-in provides established clients additional, expanded access that includes secure two-way document exchange, online submission of completed tax organizers, as well as payroll management — all at the click of a mouse. And with MHTB's unique access to specialists focusing on business, tax and litigation services, when a question or issue of concern cannot be answered online, a trained, highly qualified and experienced MHTB accounting pro is always ready to quickly respond. As Pezzoni aptly sums it up, "We strive to maintain a client-first philosophy at all levels."
Online Financial Resources & Tools For A Wide Range Of Clientele
Whether the need is to get a current tax tip, track a refund, check on tax due dates, rates, forms or get expert guidance on how long to keep tax and other financial records, the new MHTB website has a reliable and verified answer. In addition, guides are provided for topics that include life events; tax strategies for individuals and business owners; investment strategies and business strategies — along with answers to more than 500 everyday financial questions. All online and available 24/7 at the MHTB website.
About MHTB Accountancy Group of Silicon Valley
MHTB Accountancy Group of Silicon Valley (mhtb.com) is a highly respected and recognized accountancy firm established on the principal that its clients deserve the utmost in professional expertise and service. Founded by Bruce McCahan, Charles Helfrick, Ray Thiercof and James Butera in the early 1970s, MHTB has earned the highest level of trust and confidence with its clientele over the years. The firm serves a wide variety of clientele with expert tax preparation, business and litigation services.
Member, American Institute of CPAs (AICPA) and California Society of Certified Public Accountants.

Certified Advisors for Xero and QuickBooks accounting software.
Located at 1655 Willow Street, San Jose, California 95125.
Phone: 408-266-4755 — Web: mhtb.com — Email: Info(at)mhtb(dot)com
ACCURACY • RELIABILITY • TRUST • SINCE 1971
For more information about MHTB Accountancy Group of Silicon Valley contact Fred Gillaspy at: 831-438-2809, or email to: media(at)mhtb(dot)com. © Copyright 2017 MHTB Accountancy Group of Silicon Valley. The MHTB Accountancy Group of Silicon Valley Logo is a trademark of MHTB Accountancy Group of Silicon Valley. Any other products, brand names or companies are trademarks or registered marks of their respective companies.