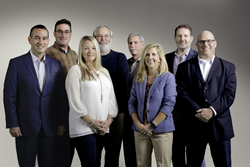 Columbia, MD (PRWEB) January 12, 2017
ADG Creative is honored to announce that the agency has been featured in the first-ever SmartCEO Best-Run Companies Book, a compilation of business stories and ideas from what the publisher has deemed the Mid-Atlantic's best-run companies.
To determine the best-run companies in the region, SmartCEO invited leadership from each organization to be interviewed on camera, sharing their thoughts, insights, and experiences in leadership, culture, and workforce management. The ADG executive team's content was selected for highlighting the agency's innovative and creative approach to company culture, and how mastering it ultimately leads to better results for ADG's clients.
"I think when you start to ask [your employees] the questions – what are you good at, what are you passionate about – it's amazing how easy things get," Founder and Chief Creative Officer Jeff Antkowiak said in the book. "Now your biggest challenge becomes, how do I bridle that energy…how do I keep people pointed in the right direction, because they just want to serve everywhere."
The selected companies were honored at a recent SmartCEO book launch party.