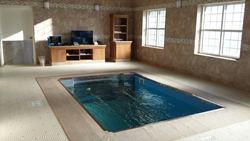 Sidney, Ohio (PRWEB) January 12, 2017
On Monday, January 23 at 2 p.m. in the Amos Center, Ohio Living Dorothy Love will dedicate the Sargeant Family Center for Aquatic Therapy & Rehab. The ceremony, which is open to the public, will include hors d'oeuvres and a tour of the new space, with demonstrations of the aquatic therapy pool. Transportation will be provided from the Amos Center to the Sargeant Family Center.
Construction of the center began in June of 2016 and was funded by a $1.52 million capital campaign, Waves of Change, conducted by the Ohio Living Foundation. The campaign exceeded its goal of raising $1.4 million, demonstrating the strong support for this kind of therapy in the Sidney/Shelby County area. The project pairs nicely with the Rehab Studios that Ohio Living Dorothy Love opened in October 2015, offering comfortable, private accommodations to rehab patients as they recover from an injury, illness or surgery.
The rehab center, named for brothers and long-time supporters John and Robert (Bob) Sargeant who were honorary co-chairs of the capital campaign, features a HydroWorx 2000 therapy pool that provides a warm, soothing therapy environment that puts less stress on joints or painful areas. This is conducive to a faster, more successful recovery. The state-of-the-art therapy pool also features underwater cameras for observation by the therapist, moveable resistance jets, an integrated treadmill and rising floor for easy access. The project also included expansion of the therapy gym, doubling the size of the existing facility, and will offer a level of therapy not currently available in the area.
"At Ohio Living Dorothy Love, we have been evolving and changing for more than 94 years and this is just another example of how we will continue changing to meet the needs of our community," said Tricia Atwood, Ohio Living Dorothy Love executive director. "With advances in medicine and changes in healthcare, society is seeing more treatment options with shorter hospital stays. All of this creates a need for short-term rehabilitation where people can receive the specialized care and treatment they need to regain function and quality of life and return home quickly, where ever home may be. The new Sargeant Family Center for Aquatic Therapy & Rehab will do just that while meeting our mission to enhance the physical, mental and spiritual well-being of our residents and guests."
The center offers physical, speech and occupational therapy to both Ohio Living Dorothy Love residents and those in the Sidney/Shelby County area, providing personalized recovery plans using the latest equipment and innovative techniques. For more information, call 937.498.2391 or visit ohioliving.org. If you would like to attend the dedication event, please RSVP to Deb Sanders, director of sales & marketing at 937.497.6543 or dsanders(at)ohioliving.org by Tuesday, January 17.