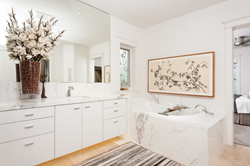 You can spend $200+ per month for a spa treatment, or you can spend less than that and have your own retreat without even leaving your home.
Portland, Oregon (PRWEB) January 12, 2017
Homeowners are expected to seek respite in their homes in the coming year, from the noise of a growing technological world. Soothing interiors, spa-like bathrooms, plunging bathtubs and personalized spaces are all on the rise.
Trend #1: Interior Retreat
Defined living spaces are returning to modern homes as people seek respite from computers, cell phones, and other sources of stress. Clients especially want a retreat in their bathrooms.
#2: The New "Wow" Spaces: Powder Baths
After years of making necessary home improvements, clients are putting more emphasis on luxury — including a bit of fun, whimsy, and functional art in spaces like powder baths. Others are simply looking for more space to put their personal style on display.
Trend #3: Jewel Tones Accents in Neutral Rooms.
Annual color forecasts in the fashion industry have an impact on interior design. Designers are seeing a shift from industrial tones toward vivid accent colors that add surprise and excitement to a space.
Trend #4: Farmhouse Chic
The style known as "farmhouse chic," or "farmhouse modern" continues to evolve in interior design.The farmhouse approach creates a heightened awareness of our agrarian roots, taking us back to a time when we were surrounded by simpler materials and comforts. Natural textures and patterns in tile, wide plank wood flooring, wood countertops, and farmhouse sinks all contribute to the look.
#5: Japanese Ofuro Tubs
For years, designers have seen large built-in tubs replaced by free-standing tubs, but many clients are now moving toward Japanese Ofuro tubs with a smaller footprint.
#6: Truly Personal Spaces
Personal space is of utmost importance to many clients. It's a designated area where people can surround themselves with the things they love, and where they can share their personal uniqueness with others.
#7: Wet Rooms as a Universal Design Approach
Universal Design is usually driven by aging homeowners, but many people have caught on to the convenience and beauty of a wet room. Whether users are dealing with a broken leg or a more permanent physical challenge, curbless showers allow greater ease in access. That's why many bathtubs are being replaced with showers, often designed as walk-in showers.
#8: Outdoor Spaces
Neil Kelly designers have seen a significant increase in outdoor projects over the past year and expect that trend to continue. Outdoor spaces can involve anything from a simple deck or patio installation to a complete outdoor kitchen with entertainment area.
#9: Curved Elements in Bathroom Spaces
Curves are being used more frequently as a design element in bathrooms; they help delineate wet and dry spaces, and help soften traditionally square elements, like tubs and cabinets.
#10: ADUs
ADUs — or Accessory Dwelling Units — are small, self-contained homes that are built in addition to the main house on a lot. These units typically include space for living, sleeping, food prep and bath facilities. Though ADUs take many forms, designers make every effort to blend them seamlessly with existing homes.
(See attached pdf for full release, including photos and designer quotes.)
About Neil Kelly Company
Neil Kelly Company, the largest residential design-build remodeling firm in the Northwest, helps homeowners care for all aspects of their homes. Services include custom homes, award-winning design-build remodeling, energy upgrades and home repairs big and small.
Neil Kelly is proud to be a certified benefit company (B Corporation) and seeks to be a caring corporate citizen in everything that it does. With five Pacific Northwest locations in Portland, Lake Oswego, Eugene, Bend and Seattle, Neil Kelly is renowned for its innovative design and remodeling services, quality craftsmanship and sustainable building practices. Homeowners are invited to visit Neil Kelly design centers or attend free educational workshops. Visit http://www.neilkelly.com.