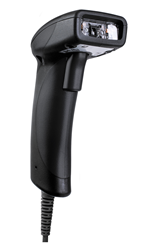 "For the same price as a laser scanner, retailers can deploy the CR950 across their enterprise," said Garrett Russell, VP of Marketing for Code
Salt Lake City, UT (PRWEB) January 13, 2017
Code, a technology leader in image-based barcode reading solutions, is set to launch its newest barcode reader, the CR950, at the National Retail Federation Annual Convention & Expo, in New York City, New York, January 15-17, 2017.
The CR950 is an easy-to-use, entry-level barcode reader that rapidly decodes 1D and 2D barcodes, including PDF417 and QR barcodes, while outperforming single-line laser scanners and linear imagers with full omnidirectional barcode reading.
Furthermore, with Code's 2D Revolution™ decoding platform, the CR950 can quickly read barcodes printed on highly reflective driver licenses and mobile device screens to speed up in-store credit applications and loyalty program workflows.
"For the same price as a laser scanner, retailers can deploy the CR950 across their enterprise today and have confidence that their hardware investment will not be obsolete as their applications change with market demands," said Garrett Russell, VP of Marketing for Code. "The CR950 offers an advanced level of programming versatility to ensure a future-proof investment."
The CR950 provides this tremendous value with the same lightweight ruggedness customers have come to expect from Code. And as with all Code readers, the CR950 is designed to be ready-to-use, right out of the box for seamless integration to any POS or other data entry system.
The performance of the CR950 is set to revolutionize 2D barcode reading for the retail market.
See it in action at NRF in booth 537 or learn more at http://www.codecorp.com.
About Code
Code is a technology leader in image-based barcode reading solutions. Code designs and manufactures a complete line of image-based barcode reading hardware and software solutions to enhance productivity and exceed customers' expectations for superior barcode reading performance, ergonomic design, equipment durability, and seamless integration with their operations. Servicing a diverse range of industries and environments, Code's products are used in critical applications in healthcare, public safety, manufacturing, transportation, retail, and a range of other diverse industries.
Code's 2D Revolution™ image processing and decoding solution is the de facto choice for enterprise-grade barcode scanning software technology that enables rapid, accurate decoding of virtually any barcode symbology, of virtually any quality and curvature – every time without fail. As the backbone of Code's product line and with the flexibility to integrate with any device, operating system, and application, 2D Revolution ensures you can reliably capture the barcode data you need, in the way you want, at the pace your business demands. 2D Revolution is the only decoder to support the proprietary GoCode® symbology which uses encryption to secure and prevent illicit reading of sensitive data.
Code's worldwide headquarters are located in Salt Lake City, USA, and has regional headquarters in China, Singapore and The Netherlands. For more information, visit http://www.codecorp.com.