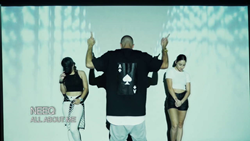 Sydney, AUS (PRWEB) January 12, 2017
Montreal native NeeQ has released his latest video for his new single "All About Me." The video was filmed in Sydney, Australia and can currently be viewed in its entirety at the Coast 2 Coast Mixtapes website.
Neeq is an experienced and talented rapper born and raised in Quebec Canada with the heart and soul of the real 90's hip hop.
Known to dominate any stage in any city with his charismatic, dynamic showcases and ability to deliver lyrics unlike any other rapper, Neeq is a must have addition to any event. Many walk away surprised with the theatrics Neeq brings to his audience. Not only does Neeq have a natural talent and desire to perform, he is a skilled producer and has written songs with various international artists across the globe. Neeq has many experiences that builds an amazing portfolio, but the biggest is yet to come with the album titled "I Am Machine" which features popular local Australian artists and producers. This album has big projections and is pushed for an ultmiate release.
With plans to take this album worldwide, Neeq will continue the journey he started back in 1998 when he first jumped on stage. Following his love for music he experienced performing on stages in New York, LA, Tornto, Montreal, Quebec, Melbourne, Syndey an the list goes on. Neeq then went on to feature on many volumes of the "Coast 2 Coast" mixtape series and appeared in the July Issue of "The Source" magazine along with performing in Miami for the tour.
These opportunities led to Neeq's increased dedication to opening up his own recording studio and production label 'OneMusiQ,' bringing him one step closer to making his dreams a reality. Graduating from SAE College with a degree of Recording Arts, Neeq took many years crafting his skills and talents to then perform along such artists as Busta Rhymes, Ja Rule, Pitbull, Bone Thugs N Harmony, Jeremih, Bow Wow, Onyx (to name a few) and infront of crowds upwards to 10,000.
Neeq took time in 2016 to create a project he holds close to his heart through the release of his album "L.O.V.E." With video views over 40,000 this album showcases the lyrically clever ways of putting love into rhymes. Neeq is also very well known for debut album "One" which featured his signed single "My Generation."
With overwhelming feedback from production companies in Australia such as Sony and others, Neeq continues his plans to grow 'OneMusiQ' with his upcoming album and tour across America mid 2017 after tackling the Australian Hip Hop community.
About Coast 2 Coast Mixtapes:
Coast 2 Coast Mixtapes are the most widely distributed mixtapes in the world, with over 100 million downloads/plays generated by over 300 volumes officially hosted by major artists. Coast 2 Coast has a solid reach in the new music industry with a digital magazine, DJ coalition, industry tips blog, yearly convention, and more. Coast 2 Coast Mixtapes represents a unique opportunity for artists of all urban genres, from major to indie. For more information, visit http://www.coast2coastmixtapes.com.