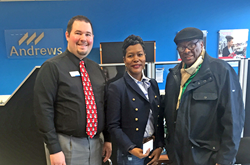 Suitland, Maryland (PRWEB) January 12, 2017
Andrews Federal Credit Union Chievres Branch provided an award to a local woman who discovered money in the parking lot. Ms. Erica Little was walking back to her car when she found a substantial amount of money lying on the ground, along with a business card from Andrews Federal. She brought the money into the Credit Union and Andrews Federal was able to piece together who the missing funds belonged to.
Josh Barrett, Chievres Branch Manager, coordinated a meet and greet between Ms. Little and Mr. Earl Sweatt; the individual who lost the money. Mr. Sweatt expressed his sincere thanks to Ms. Little for her honesty and integrity in returning the funds.
"During the holiday season, things get crazy and hectic, but this is a bright moment for two individuals," said Barrett. "It is a privilege to be able to thank Ms. Little for her honesty and see that the money was returned to its rightful owner."
About Andrews Federal Credit Union
Andrews Federal Credit Union was founded in 1948 to serve the needs of military and civilian personnel by providing a vast array of financial products and services. With over $1.3 billion in assets, Andrews Federal has grown to serve more than 119,000 members in the District of Columbia, Joint Base Andrews (MD), Springfield, Virginia (VA), Joint Base McGuire-Dix-Lakehurst (NJ), and military installations in central Germany, Belgium, and the Netherlands. In addition, the Credit Union serves as a financial partner with many select employee groups in Maryland, the District of Columbia, Virginia and New Jersey.
To learn more about Andrews Federal Credit Union and its community involvement, or to become a member, call 800.487.5500 or visit http://www.andrewsfcu.org.