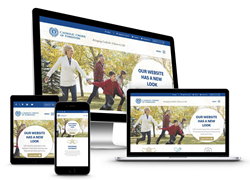 "Americaneagle.com conducted a thorough site audit that revealed to us how much more we could do with our site."
Des Plaines, IL (PRWEB) January 12, 2017
Catholic Order of Foresters (COF) is a fraternal benefit life insurance company, the third largest of its kind in the U.S. COF contracted web design and development company Americaneagle.com to review its website and add robust functionality to it after it was developed by another company.
Americaneagle.com began the project with a site audit. As a result of the audit findings, a large technical overhaul of the site was successfully completed. Americaneagle.com then enhanced the login and registration process using advanced logic and also developed new functionality such as member dashboards and custom functionality for COF regional member groups. Americaneagle.com made it possible for these group administrators to manage the site from the front end, allowing them to post their own news stories and calendar of events with event registration functionality, also developed by Americaneagle.com.
Joni Kazmierczak, VP of Business Analysis and IT at Catholic Order of Foresters, said, "Americaneagle.com conducted a thorough site audit that revealed to us how much more we could do with our site. We are very happy with all the additional functionality the Americaneagle.com team added. With member dashboards, event registration and integration with our databases, the site is modern and provides more value to our users. We look forward to expanding upon this functionality to offer even more conveniences to our members and agents."
Mike Svanascini, President of Americaneagle.com, shared, "At Americaneagle.com, we are involved in all areas of site strategy, design and development, so when Catholic Order of Foresters came to us for a site audit, we had the perfect team for the job."
About Catholic Order of Foresters
Catholic Order of Foresters (COF) is a Catholic life insurance company that helps members achieve financial security while supporting the Catholic community through fraternal outreach. COF's commitment to caring began in 1883 at Holy Family Parish in Chicago, Illinois, when 42 men saw the need to assist families who had lost the primary wage earner. Today, Catholic Order of Foresters has more than 119,000 members nationwide and is licensed in 32 states and Washington D.C. By offering each member unique added-value fraternal benefits, such as scholarships and tuition assistance, COF brings Catholic values to life. The home office is located in Naperville, Illinois. For more information, visit http://www.catholicforester.org.
About Americaneagle.com
Americaneagle.com, Inc., founded in 1978, is a leading Web design, development, and hosting company based in Des Plaines, Illinois. Currently, Americaneagle.com employs approximately 350+ professionals in offices throughout the country including Chicago, Charlotte, Cleveland, Dallas, Fort Lauderdale, Los Angeles, Philadelphia, New York, and Washington D.C. Some of their 7,000+ clients include Komatsu USA, FASTSIGNS, Stuart Weitzman, WeatherTech.com, Chicago Bears, and the American Dental Association. For additional information about Americaneagle.com, visit http://www.americaneagle.com.
Contact
Michael Svanascini, President, Americaneagle.com
press(at)americaneagle(dot)com
847-699-0300