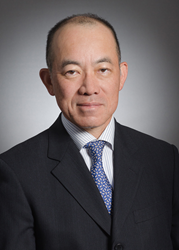 New York, NY (PRWEB) January 17, 2017
Morrison & Foerster, a leading global law firm, is pleased to announce that Yasuhide Watanabe, a highly regarded mergers & acquisitions lawyer admitted in New York, California and Japan (bengoshi), has joined the firm's Corporate Group in New York. Mr. Watanabe comes to Morrison & Foerster from Nagashima Ohno & Tsunematsu, one of Japan's largest law firms, where he was most recently the managing partner of its New York office.
"Yasuhide will play a key role in growing the firm's already strong capability in representing Japanese companies doing transactions around the world," said Thomas Knox, global co-chair of Morrison & Foerster's Corporate Department. "His extensive transactional and business experience with Japanese companies doing deals in the United States will enhance our worldwide representation of major Japanese clients."
Ken Siegel, managing partner of Morrison & Foerster's Tokyo office and the head of that office's 50 attorney M&A team, added: "We've worked both with and across the table from Yasuhide for many years and know him to be an outstanding M&A lawyer. We are pleased to welcome such an acclaimed bengoshi to the firm."
Mr. Watanabe brings more than 30 years of experience with Japanese corporate clients and other clients in the United States and internationally as part of a corporate practice focused on M&A, international joint ventures and business alliances, antitrust, trade regulations, and dispute resolutions including arbitration and mediation.
"Part of what drew me to Morrison & Foerster is its strong global platform," said Mr. Watanabe. "I was also attracted by the firm's clear commitment to further building in the Japan market, as well as its outstanding Japan- and U.S.-law capabilities. These will be extremely important for my practice and clients."
Mr. Watanabe is ranked by Chambers & Partners 2016 Global Edition in the "Japan Corporate/M&A" category and also is recognized by Chambers 2016 as a "Foreign Law Expert Based in the USA," the only bengoshi in the United States so honored. He earned his LL.B. from the University of Tokyo and his LL.M. from Columbia Law School.
Morrison & Foerster is the leading international law firm in Japan, with more than 120 attorneys in Tokyo. Morrison & Foerster has been named Japan International Law Firm of the Year by Chambers Asia Pacific for the last four years and was recognized by Chambers Asia Pacific 2016 in more top-tier practice rankings and more top-tier leading individuals than any other international firm in Japan – including a Band 1 ranking for Corporate/M&A. The firm's U.S. offices represent many of Japan's largest corporations in U.S. and global transactions including M&A, joint ventures, and strategic investments.
ABOUT MOFO
We are Morrison & Foerster — a global firm of exceptional credentials. Our clients include some of the largest financial institutions, investment banks, Fortune 100, and technology and life sciences companies in the world. The Financial Times has named the firm to its lists of most innovative law firms in Northern America and Asia every year that it has published its Innovative Lawyers Reports in those regions. In the past few years, Chambers USA has honored MoFo's Bankruptcy and IP teams with Firm of the Year awards, the Corporate/M&A team with a client service award, and the firm as a whole as Global USA Firm of the Year. Our lawyers are committed to achieving innovative and business-minded results for our clients, while preserving the differences that make us stronger.