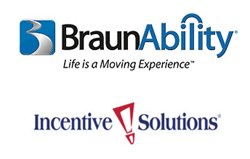 When we upgrade the incentive program and streamline the process, it will provide participants more freedom.
Atlanta, GA (PRWEB) January 16, 2017
Atlanta-based incentive company Incentive Solutions is proud to announce their recent partnership with an innovator in the wheelchair accessibility industry, BraunAbility. Incentive Solutions will provide BraunAbility a debit card rewards program to motivate their dealer salespeople to sell wheelchair accessible vehicles. With this new incentive plan, BraunAbility plans to continue their tradition of excelling in business in order to improve thousands of lives.
"Our goal is to upgrade our existing incentive program technology for our dealer salespeople and dealer owners. This will help us improve performances and provide a better user experience," says Joe Garnett, Director of Marketing and Brand Development at BraunAbility.
Many of Incentive Solutions' clients seek them out for services and technology that increase the effectiveness of existing incentive plans and strategies. "A good portion of our new business comes from companies looking for better, more efficient ways to run incentive programs," says Incentive Solutions Account Manager for BraunAbility, Ashley Lodge. "Every client partnership is different and exciting. We see ourselves as true business partners who will understand our clients' industries and help them to develop custom incentive programs that meet their unique needs."
BraunAbility's incentive program, BraunAbility Rewards, targets both dealer salespeople and dealer owners. "We reward them for their sales and support of our mutual customers," Garnett says. "When we upgrade the program and streamline the process, it will provide participants more freedom in using BraunAbility Rewards." That freedom and accessibility goes hand-in-hand with BraunAbility's dedication to improving mobility in the world.
With new incentive strategies to drive sales, Garnett says BraunAbility will "continue to lead automotive mobility innovation and access in the U.S. and internationally. Our mission is 'to make life a moving experience for all,' and that means working to ensure mobility solutions are available around the world, for both public and private use." Incentive Solutions is honored to partner with a company providing the world with empowering technology and is eager to help BraunAbility thrive.
About Incentive Solutions
Incentive Solutions, Inc. was founded in 1994 and is based in Atlanta, GA. The parent company of The Incentive Solutions Group of Companies, consisting of Incentive Solutions and Loyaltyworks, Incentive Solutions offers online rewards, travel incentives and gift card rewards. Since its creation, Incentive Solutions has focused on delivering more than just rewards, innovating the incentive industry by utilizing emerging online technologies. Acting as valued partner and trusted advisor to clients, they help organizations increase sales, motivate employees, build customer loyalty, create positive work environments and improve channel sales relationships.
Incentive Solutions
2299 Perimeter Park Drive, Suite 150
Atlanta, GA 30341
(770) 457-4597
1-866-567-7432
About BraunAbility
BraunAbility is the world's leading manufacturer of wheelchair accessible vehicles and wheelchair lifts in the mobility industry. Founded nearly 50 years ago by Ralph Braun, the corporation was built on the age-old adage, "Necessity is the mother of invention." Ralph Braun was a young man who used a wheelchair and had no reliable transportation to and from his place of work. He built his first wheelchair accessible vehicle in 1972, and since then the company has grown into the most well-known and trusted name in the mobility industry, bringing independence to millions of individuals across the world.