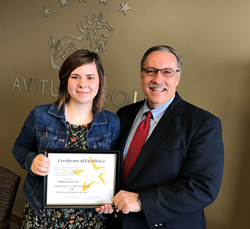 Billings, Montana (PRWEB) January 16, 2017
Avitus Group Legal Administrative Assistant Meghan Hopwood was nominated by her co-workers and selected by the company's Employee of the Quarter Committee for making significant contributions to the company, clients and co-workers. The committee selected Hopwood after multiple nominations from co-workers that all pointed to her drive for perfection, attention to detail and ability to make her co-workers' jobs easier.
"While reading the nomination forms it was clear that Meghan does go above and beyond to help her team and her department," says Employee of the Quarter Committee Chair and Payroll Team Lead Tana Erickson.
"Meghan's nominations all had similar comments about her meticulous attention to detail, which greatly aids her co-workers and helps operations run smoothly on a daily basis at the office," says Avitus Group Public Relations Manager Dianne Parker. "Meghan certainly represents our staff at Avitus Group well, and we're fortunate to have her on the team."
Avitus Group's employee of the quarter program is designed to recognize an employee who has made a significant contribution to the company and its clients. Avitus Group awards the employee of the quarter with a paid day off, a $75.00 gift card and $50.00 in Avitus Group apparel. In addition, the employee receives a certificate signed by the president of Avitus Group, Inc.
"Our Employee of the Quarter Committee received many deserving nominations, but Meghan's stood out. Meghan reports to three in-house attorneys and assists them in all their paperwork and deadlines. This position, as well as her previous position in payroll prior to her promotion, require a high level of attention to detail. Meghan continues to excel in her daily duties, and the team has recognized her as a vital member that is greatly missed when she is on vacation," commented Avitus Group, Inc. President Don Reile.
"I am truly honored to be nominated as the employee of the quarter. Thank you to all of my co-workers who saw the potential that I strive for each day. Avitus Group has been a great asset to my life and I look forward to years to come," says Avitus Group Legal Administrative Assistant and Employee of the Quarter Meghan Hopwood.
Hopwood joined Avitus Group in 2015 as a Payroll Administrative Assistant and has since been promoted to her current position within the corporate legal department.
"As our company continues to grow at a rapid pace, we're looking for talented members to join our team nationwide. Avitus Group makes it a priority to promote from within, and the sky is the limit when it comes to career growth and opportunity," says Avitus Group Director of Talent Acquisitions Anne Arrowsmith.
Avitus Group is a worldwide company that simplifies, strengthens and grows businesses by providing 'back office' support (Payroll, accounting, taxes, recruiting, information technology, human resources and much more.) When a business uses Avitus Group, all of the necessary yet burdensome functions of the business become Avitus Group's responsibility, so the business can focus on what it does best. Avitus Group serves clients nationwide through regional office locations from coast to coast. The company also serves international clients through partner locations in Europe, Canada, China, England, India, Japan and Singapore.