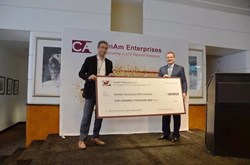 "The EB-5 Program is very complex program and constantly changing. " said CanAm CEO Tom Rosenfeld, "We have some bumps along the way. In every instance, we have fixed these bumps in a way that was in the best interest of our investors."
New York, NY (PRWEB) January 18, 2017
At the request of U.S. Citizenship and Immigration Services (USCIS), the Economics and Statistics Administration (ESA) of the Department of Commerce conducted an assessment of the EB-5 Program to determine its size and its contribution to the U.S. economy. The EB-5 Program provides qualified foreign investors with the opportunity to earn "conditional" immigrant visas in return for investing $500,000 in businesses located in high unemployment areas that create or retain at least ten permanent full-time jobs for U.S. workers.
Published on January 10, 2017, the ESA report (click here) examined 134 active EB-5 projects operated through Regional Centers during FY 2012 and FY2013. It shows that an estimated 169,759 jobs were expected to be created from total investment of $16.4 billion. A significant percentage, 66% or $10.9 billion, of the investments came from non-EB-5 sources of capital, which include equity from project developers, commercial loans, and investment from other project participants. ESA noted further that by including jobs associated with non-EB-5 investor sources of capital, each immigrant investors associated with the Regional Center Program was creating 16 jobs for the U.S. workers. Hence, the EB-5 Program is a win-win job creation program that receives bipartisan supports.
New York-based CanAm Enterprises (CanAm), manager of several USCIS-designated Regional Centers, has been devoted solely to being a bridge between foreign investment and qualifying job-creating projects since 2001. To date, CanAm Enterprises has raised over $2.4 billion in EB-5 capital for more than 53 projects ranging from infrastructure, real estate development to education and has helped create an estimated 60,000 full-time jobs for the U.S. citizens. "We do exhaustive research to find qualified projects for investment, and we work just as hard to ensure that our borrowers follow the job creation formula required by the EB-5 model," said CanAm CEO Tom Rosenfeld, "We constantly monitor all of our projects to ensure that the job creation goals are being met, and we work with our investors and the federal government to keep them fully informed about the status of the Regional Center projects."
On January 15th, CanAm hosted a gala event in Los Angeles to celebrate its 31st loan repayment, bringing the total number of its repaid clients to 1,673 immigrant investors and $836.5 million in EB-5 capital. All of the investor-families who have participated in CanAm's EB-5 projects have received permanent residency status as a result of their investments. Many investor-families who attended the event voiced their great appreciation to CanAm's team and to the EB-5 Program, which together, helped fulfill their American Dreams.
###
About CanAm Enterprises
With three decades of experience promoting immigration-linked investments in the United States and Canada, CanAm has a long and established track record. Based on a reputation of credibility and trust, CanAm has financed more than 53 project loans and raised more than $2.4 billion in EB-5 investments. CanAm exclusively operates seven USCIS-designated Regional Centers that are located in the City of Philadelphia, the Commonwealth of Pennsylvania, the County of Los Angeles, the State of Hawaii, the Metropolitan Region of New York, the State of Florida and the State of Texas.
For more information, please visit http://www.canamenterprises.com