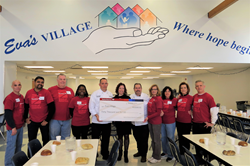 Our corporate partners provide critical support and funding for Eva's 20 anti-poverty programs serving our community in Paterson.
Paterson, N.J. (PRWEB) January 24, 2017
A team of Bank of America volunteers presented a $40,000 check to Eva's Village in December 2016. The grant will help fund the food and shelter, medical and recovery, and education and job training programs at Eva's Village. These programs serve the men, women, and mothers with children struggling with homelessness, hunger, and addiction who come to Eva's Village for help.
Eva's Village values the strong community partnership that has grown out of a decade of regular volunteer participation and 20 years of sustained financial commitment from Bank of America. "Our corporate partners provide critical support and funding for Eva's 20 anti-poverty programs serving our community in Paterson," noted Eva's Development Director, Heather Thompson. "The partnership works both ways. Volunteering is a tangible way to give back and puts a face on hunger in our community by fostering personal interactions with individuals who come for a meal," she added.
Gabriella Ropke-Lugaro, a Bank of America employee who has volunteered for eight years at Eva's Village, agrees. "You can't help but love them." Bank of America encourages employees to volunteer and those who do, like Ms. Ropke-Lugaro, find it rewarding to give back to the community. She belongs to a core group of seven employees representing a wide range of departments, who sign up one Friday a month to serve the noon meal in Eva's Community Kitchen. "The need is clear. We know we're appreciated. We're thanked often. I feel blessed and honored to serve at Eva's," she said.
For 35 years, Eva's Village has served a daily nutritious meal to those in need. Now, Eva's Community Kitchen serves meals to more than 350 individuals, 365 days a year. Last winter, Eva's Village added weekday breakfast service (an additional 750 meals each week) to address the persistent problem of hunger. The Community Kitchen is a place where individuals who come for meals can find out about other services and programs available at Eva's Village.
More about Eva's Village
Founded by Msgr. Vincent E. Puma in 1982, Eva's Community Kitchen began by serving 30 meals a day to feed the hungry in Paterson. In response to the related issues of poverty, addiction, mental illness and homelessness in the community, additional programs and services grew out of the Community Kitchen to become Eva's Village, a non-profit, social service, anti-poverty organization that is one of the most comprehensive in New Jersey. For 35 years, Eva's Village has carried out its mission to feed the hungry, shelter the homeless, treat the addicted, and provide medical and dental care to the poor with respect for the human dignity of each individual. Today, Eva's Village helps thousands of individuals rebuild their lives each year through 20 integrated programs addressing needs in the community for Food & Housing, Medical & Recovery services, and Education & Training.