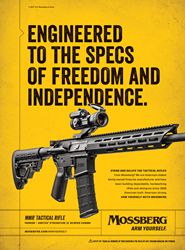 Shine is the perfect fit for us, given their deep knowledge of the outdoor industry, coupled with their experience in serving Fortune 500 brands.
Madison, Wisconsin (PRWEB) January 12, 2017
"From the moment we first met Shine United, we've been tremendously impressed with their ability to identify our core business and brand issues, provide a thoughtful analysis and map out a bold path forward," said John MacLellan, Vice President of Sales & Marketing. "Shine is the perfect fit for us, given their deep knowledge of the outdoor industry, coupled with their experience in serving Fortune 500 brands. We're thrilled with this new partnership and the potential it holds for the Mossberg brand."
Shine will be responsible for the development of a comprehensive brand review and refresh for Mossberg, including quantitative research, marketing and brand planning, print and digital advertising, content development, collateral, merchandise, trade show materials and additional communications activities in support of the shotgun and rifle manufacturer.
"It's a true pleasure to work on the Mossberg brand," said Curt Hanke, Shine founder, CEO and Chief Brand Strategist. "Our team has a wealth of experience in marketing outdoor brands, and bringing those talents to bear on behalf of such a true American pioneer is an honor. We're eager to identify the optimal paths for growth as Mossberg enters its second century as a firearms industry leader."
On the heels of a robust research and planning engagement, Shine's first creative offering for the brand is the "Arm Yourself" print advertising campaign. Featuring breakthrough design and bold headlines like, "Engineered to the Specs of Freedom and Independence" and "Bad Guys Don't Ring Doorbells," the campaign seeks to fuel continued growth for the Mossberg brand in its key categories.
"The Mossberg brand has a storied tradition of reliable, hardworking American firearms," said John Krull, Shine partner and creative director. "As such, this campaign seeks to reaffirm the confidence and security the brand has provided for almost 100 years — allowing people to arm themselves with everything that's built into a Mossberg."
The print campaign will run in consumer titles such as Outdoor Life, American Rifleman, Guns & Ammo, Gun Digest and American Hunter, as well as industry publications like SHOT Business and Shooting Industry.
With a rapidly growing portfolio of outdoor clients, Shine's work on behalf of Mossberg follows similar recent engagements for Aguila Ammunition, LaCrosse Footwear and GORE-TEX Apparel.
About O.F. Mossberg & Sons, Inc.
Founded in 1919, O.F. Mossberg & Sons, Inc. is the oldest family owned firearms manufacturer in America, and is the largest pump-action shotgun manufacturer in the world. Leading the way with over 100 design and utility patents to its credit, and standing as the first ISO 9001 Certified long-gun manufacturer, Mossberg is considered to be one of the most innovative firearms manufacturers in U.S. History. For more information on commercial, special purpose, law enforcement and military shotguns, rifles and accessories, please visit their website at http://www.mossberg.com.
About Shine United
Shine United is a $41 million advertising, design, and interactive agency located in Madison, Wisconsin. The privately held company's client roster includes national brands such as Harley Davidson, LaCrosse Footwear, Wisconsin cheese, GORE-TEX® Apparel, Amazon.com, Winston Fly Rods, and Kohler Co. Shine is an environment where creativity, brilliance, and teamwork are allowed to flourish — part of the reason the agency was recently named the #5 place to work by Outside Magazine.