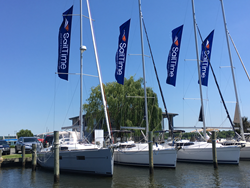 This recognition is a fantastic way for us to kick off what we believe will be our best year yet as we aim to grow our international presence with new bases in Europe!
Annapolis, Maryland (PRWEB) January 12, 2017
SailTime, the world's leading fractional boating membership program, with bases around the United States and Australia, today announced its inclusion in Entrepreneur Magazine's 38th annual Franchise 500®. It is the third major honor within the last year for SailTime, following their inclusion in the INC 500/5000 in August 2016 and Entrepreneur's recognition in 2017's "10 Hottest Franchise Categories" in December 2016.
"All of us at SailTime are incredibly excited to be named to Entrepreneur Magazine's prestigious Franchise 500," SailTime CEO Todd Hess said. "This recognition is a fantastic way for us to kick off what we believe will be our best year yet as we aim to grow our international presence with new bases in Europe!"
SailTime has enjoyed growth of 161 percent since 2012, expanding to 28 franchise bases in the United States and six bases in Australia. Their recent partnership with Beneteau, one of the biggest and most respected boat manufacturers in the world, provided SailTime franchisees the opportunity to offer Beneteau boats for both the membership program and the boat ownership program. Three Beneteau yacht dealers in North America integrated with SailTime in 2016, and corporate officials are heading to Dusseldorf, Germany on January 21st to discuss integrating the SailTime franchise with Beneteau dealers in Europe.
"Beneteau has been a terrific partner with SailTime, so it's only natural that we'd take the success we've had stateside in 2016 and look to expand the partnerships with our European boating friends this year."
Over its 38 years in existence, the Franchise 500 has become both a dominant competitive measure for franchisors and a primary research tool for entrepreneurs. The key factors that go into Entrepreneur's evaluation include costs and fees, size and growth, support, brand strength, and financial strength and stability. All franchises are given a cumulative score based on more than 150 data points, and the 500 franchises with the highest cumulative scores become the Franchise 500 in ranking order.
"Entrepreneurs in every industry must constantly improve and adapt, and our Franchise 500 list is full of success stories," says Jason Feifer, editor-in-chief of Entrepreneur. "No matter what their concept is, these companies — from booming newcomers to established industry dominators — tell us a lot about what it takes to keep up with current trends in the business world."
To view the full ranking and any of these related stories, pick up a copy of the January 2017 issue of Entrepreneur magazine on newsstands now, or visit http://www.entrepreneur.com/franchise500.
###
About SailTime:
Now celebrating its 15th anniversary, SailTime has more than 28 locally owned and operated fractional boating franchise bases throughout North America and seven bases in Australia. SailTime members share the use of a professionally managed boat through the use of a unique and proprietary online scheduling system. A monthly membership fee covers the slip fees, maintenance, insurance and operating costs. These memberships offer an attractive alternative to boat ownership. SailTime also offers a generous Owner Member Program where the owner receives a monthly income, as well as the benefits of membership and complete professional management of their boat.
SailTime also has a significant network of sailing schools, via bases that are certified American Sailing Association (ASA) and Royal Yachting Association (RYA) affiliates. The instruction provided at these locations has been a key component in providing a pathway for members to achieve their goals and dreams for the sport of sailing.
Visit SailTime online at https://sailtime.com
ABOUT ENTREPRENEUR MEDIA INC.
For nearly 40 years, Entrepreneur Media Inc. has been serving the entrepreneurial community providing comprehensive coverage of business and personal success through original content and events. Entrepreneur magazine, Entrepreneur.com, and publishing imprint Entrepreneur Press provide solutions, information, inspiration and education read by millions of entrepreneurs and small business owners worldwide.
To learn more, visit entrepreneur.com.