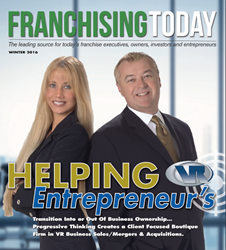 Our goal is to attract individuals who want a career they can be proud of while understanding the serious responsibility to transparency in the sale of a business.
Fort Lauderdale, Florida (PRWEB) January 13, 2017
Recently VR Business Brokers / Mergers & Acquisitions was featured in the franchising news publication, Franchising Today. The article goes into detail about how VR Business Brokers has become a leading force in the niche industry of small to mid-market business sales.
VR was founded in 1979, and CEO Peter King and his business partner, President JoAnn Lombardi, acquired it in 1999. "We bought it with the belief that, in a lot of cases, the industry does a disservice to its client base by acting as residential real estate agents rather than advisors to the needs of business owners," King says. "We want to help people unlock the true value of their business before going to market and fulfill the needs of new entrepreneurs. We saw an opportunity for an industry to become a profession, similar to investment banking but directed at a client base made up of the family operated and founder-owned businesses.
VR initiates the delicate task of balancing the marketing of the business confidentially while gaining maximum exposure. The sensitive nature of a business sale must be respected so as not to damage value. If an employee, landlord, vendors, clients or any other relevant parties find out about the sale in advance, it could affect how the business is run and negatively impact the business's revenue and ultimate value. VR handles the entire process, which entails qualifying the buyer and integrating the new owner into the business.
Read the entire article online at Franchising Today.
Visit VR Business Broker Franchise Opportunity for more information about how to become a VR Business Broker office owner.
####
About VR Business Brokers | Mergers & Acquisitions
Founded in 1979, VR is the innovative leader in mergers and acquisitions of privately held businesses. Spanning five decades, VR comprehensively addresses the needs of its clients by using a detailed focus on planning, communications and execution. With offices around the world, VR is currently entering a growth cycle with the goal of expanding its domestic and foreign footprint. VR Global Headquarters is located at 2601 East Oakland Park Blvd., Suite 300, Fort Lauderdale, FL.
VR Has Sold More Businesses In The World Than Anyone.®