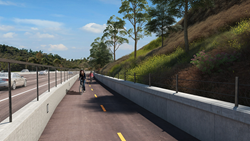 San Diego, California (PRWEB) January 18, 2017
The DOT's State Route 15 Commuter Bikeway under construction in San Diego is currently installing ELP's #111W1CP, CP Series, LED Low Level Flood-lights to provide path lighting for safe bicycle commuting. Caltrans' requirements were met by ELP engineers with customized modifications meeting the objectives of the specification criteria. Construction on the path from the Adams Avenue over-crossing to the Camino Del Rio South under-crossing began in spring of 2016. The bike route, expected to open this spring, will provide safe illuminated passage, separated from vehicles, between the Mission Valley and Mid-City areas of San Diego.
ELP specializes in unobtrusive exterior fixtures that are designed to light walkways or surfaces without glare. The exterior CP Series fixtures were specified by Caltrans, DOT and supplied by ELP to provide a large, low wash of light across the 12' wide bikeway in San Diego. Modified details incorporated a custom color with the stainless steel housing option and a customized, more vandal resistant faceplate for the fixtures. Recessed into the concrete barrier that safely separates the north and south bound bike path from State Route 15 traffic, the fixtures illuminate the path without distraction to northbound vehicles on the highway.
Answering the call of the regional climate, outdoor activity reigns supreme in San Diego. Safe bikeways are a natural fit for the active lifestyle. The San Diego Association of Government's TransNet "Keep San Diego Moving" website follows the ever expanding progress in a plan known as GO by BIKE , intended to guide the developing regional bike network through 2050. The site offers current information on projects, proposed and in progress.
The luminaires for the current project are made in the USA and utilize Osram's latest PrevaLED™ Generation 3 LED modules. The new arrays yield 40% more light than the original distributed arrays from 2013 and greater than 60,000 hours of life. With these more powerful LED arrays ELP's 11 watt #111W1CP now delivers over 790 fixture lumens. The fixture's patented asymmetric reflector and indirect optical system optimizes the light source to inconspicuously illuminate environments while concealing the LEDs from any viewing angle. These versatile units can be used in three orientations for lighting design. Placed low with the asymmetric wash of light illuminating the ground as Caltrans has specified - they're low-level floodlights. Flip them indirectly mounted above 6' height to light an awning or building feature. Finally, recess the fixtures into eaves to illuminate signs or the building itself. In any position, the energy efficient operation and great performance means fewer fixtures required and less installation labor.
Designers can take the guess work out of specifying appropriate products by utilizing the performance information on ELP's website. IES and Revit files for all LED products are available to download. Additionally, accredited "LC" designers are always available at the factory to answer specification inquiries.
According to the Department of Energy (DOE) website, "Solid-state lighting (SSL) technology has the potential to reduce U.S. lighting energy usage by nearly one-half and contribute significantly to our nation's climate change solutions." ELP is committed to be part of those solutions. Over the years, ELP has been granted several U.S. Patents for innovative fixture designs that provide superior answers for today's lighting challenges. The future is bright for this boutique lighting manufacturer as they continue to utilize new technology for developing more effective and efficient luminaires.
Those interested in additional information on this release or other ELP products can call
1-626-579-0943 or visit our website at http://www.elplighting.com.