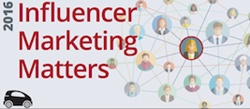 Atlanta, Georgia (PRWEB) January 12, 2017
Due to the wide popularity of its first storytelling infographic, Carabiner Communications, a marketing communications firm serving start-up and fast-growth companies, has today released an updated version that continues the nostalgic look back at the top business-to-business (B2B) marketing and PR trends that shaped how corporate stories get told, adding highlights for 2014-2017.
Carabiner Communications' newest installment, "The Driving Forces Behind 12 Years of Storytelling," illustrates the last dozen years' worth of evolution in marketing communications by highlighting key changes within the industry that impacted how corporate news was generated and consumed.
The new infographic recounts the years 2004-2013, and picks up in 2014 when communicators became technologists, then brings marketers to the present where augmented reality is expected to change the business world significantly this year. The graphic also takes a look at some of the most recent trends related to personalized sales and marketing as well as the explosion of online review communities.
"Since we developed the first timeline infographic, a steadily improving economy has heralded new business growth, a more competitive marketplace, and a renewed focus by B2B companies to speak to―not at―the real 'people' in their audiences," said Peter Baron, founder, Carabiner Communications. "As the global marketplace has continued to evolve digitally, it's been up to marketers to harness the right technologies and leverage the most appropriate communication channels to reach influencers and decision makers with the right message, at the right time."
Baron said the decision to update the existing infographic was a direct result of the overwhelmingly positive response the firm initially received. "Marketers are measurers by nature, and I think many people appreciated having a medium to see how far we've come, the challenges we've weathered, and the opportunities we've seized," he added.
Baron regularly provides his perspective on topics impacting start-up and fast-growth B2B companies in "The Connector" blog.
About Carabiner Communications
Founded in 2004, Carabiner Communications is a highly cooperative group of seasoned marketing veterans specializing in public relations, digital communications, lead generation and content development. We help make big reputations for start-up and fast-growth B2B companies. We're as adept at honing and focusing messages as we are at delivering them, weaving together multiple communications channels to every client's advantage. To learn more, visit http://www.carabinercomms.com or follow us on LinkedIn and Twitter @CarabinerComms.