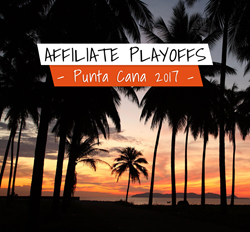 Publishers compete on a global scale for a chance at a week-long, all inclusive event in the Caribbean.
Las Vegas, NV (PRWEB) January 16, 2017
Affiliate Playoffs, which officially launched January 15th, 2017, is a year-long competition among the top affiliates in online marketing. This annual competition allows qualified publishers to compete on a global scale for a chance at a week-long, all-inclusive affiliate event in paradise. Winners will be determined using a points scale that measures entrants' abilities in terms of traffic quality, scalability, and diversification. The more points contestants earn, the bigger the chance they have to win.
The top twelve affiliates of the competition will be invited on an unforgettable vacation to Punta Cana, located at the easternmost tip of the Dominican Republic. Punta Cana is known for its nearly 20 mile stretch of beaches and clear waters. Outdoor activities will include zip lining, deep sea fishing and more. Winners will enjoy the accommodations of a 5-start resort with fine dining, premium beverage selections, and 24-hour room service.
It is not just fun in the sun that Affiliate Playoffs winners will experience. They also have an opportunity to bond with fellow affiliates to discuss publisher strategy, resources, data, tracking platforms, analytics, and best practices. There will be a renowned guest speaker in attendance and a semi-formal gala at the close of the event.
This event will run January 15, 2017 – December 31, 2017. Registration is now open and contestants who sign up by January 20th will earn 5000 bonus points towards the competition. Affiliates can sign up for this world class contest by visiting http://www.affiliateplayoffs.com.