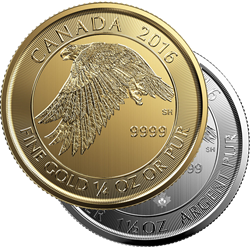 Los Angeles, CA (PRWEB) January 12, 2017
The Hartford Gold Group has announced that it has acquired a limited quantity of uncirculated 2016 Canadian Gyrfalcon coins, including the 1/4 ounce Gold Gyrfalcon and the 1.5 ounce Silver Gyrfalcon.
While inventory remains, the company will be providing wholesale pricing, free silver (with minimum purchase) and other valuable incentives to clients on these highly desirable coins. These coins also qualify for up to 3 years of free storage for IRA accounts.
"Whether you are accumulating gold and silver long term for diversification and security, or are just into beautiful coins, you will not want to miss the Canadian Gyrfalcon," said Sanford Mann, Chief Executive Officer of The Hartford Gold Group. "It is truly an artistic triumph that reaffirms the Canadian Royal Mint's superior quality and purity, offering a solid choice for both the retirement investor and collector alike."
The Canadian Gyrfalcon coins feature a classic design of Queen Elizabeth II shown in right-side profile, designed by the famed Susanna Blunt, on the obverse. The reverse, designed by Canadian natural artist Steve Hepburn, captures the celebrated power of the beautiful gyrfalcon in flight, surrounded by a striking radial pattern of lines. As the largest of all falcon species, the gyrfalcon makes an appropriate subject for a Royal Canadian Mint's bullion coin.
The Gyrfalcon Coins are of the highest quality and qualified to be included in precious metals IRAs. The Hartford Gold Group recently introduced a new retirement product – The Private Storage Gold IRA – that allows investors to upgrade their retirement strategy by storing physical gold and silver in a tax-deferred retirement account close to their own home.
To learn more about the Private Storage Gold IRA, investors can call 800-462-0071 or visit thehartfordgoldgroup.com.
About the Hartford Gold Group
The Hartford Gold Group (HGG) is a Los Angeles, CA-based company that has built its reputation on helping individuals and families diversify and protect their wealth with precious metals. The company's 5-star Customer Satisfaction Rating can be viewed at http://www.trustpilot.com.
Through its website, publications and expert product specialists, The Hartford Gold Group offers a wealth of precious metals market information and historical perspective that empowers both new and experienced investors.
# # #