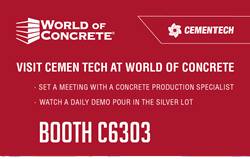 Indianola, Iowa (PRWEB) January 12, 2017
It has happened to everyone. Anyone who has worked with concrete has lost control at some point - too much, not enough, late, wrong mix, rejected loads and the list goes on and on.
Cemen Tech has been able to conjure up "Freddy Krueger" to encourage World Of Concrete attendees to share concrete nightmare stories; Cemen Tech is not on Elm Street but in Booth 6303 in Central Hall.
Stop by and share a story on video, meet "Freddy Krueger" and receive a free CONTROL t-shirt. After the show Cemen Tech will announce online a grand prize winner who will receive a Yeti cooler!
Cemen Tech has been stopping concrete nightmares for almost 50 years with their volumetric concrete mixers helping businesses control their concrete. From standard to unique concrete applications, Cemen Tech mobile and stationary mixers have done it around the globe - above ground, below ground, in extreme temperatures, in remote locations and for military.
For more information visit CemenTech.com,contact sales(at)cementech(dot)com or call 800.247.2464. At World Of Concrete Central Hall Booth 6303 and daily pours (Tuesday, Wednesday and Thursday) at 10:00, 1:00 and 3:00 in the Silver Lot with Western Material & Design LLC.