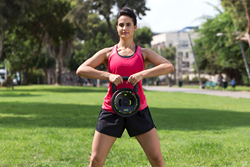 For people who want to use free weights at the house but don't have the room to store them, we developed Practix to solve that problem.
Berlin, Germany (PRWEB) January 17, 2017
Practix, which provides workout enthusiasts with an entire rack of free weights in a single, compact and portable product, is now available on the crowdfunding website Kickstarter.
Using a 'click-and-turn' mechanism, Practix is a combination of adjustable dumbbells and kettlebells designed as one compact product for easy use and convenient storage in any home.
"For people who want to use free weights at the house, one of the major problems they deal with is the amount of space they are required to give up to store them," said Co-creator Assaf van Trienen. "We've developed two Practix products, the M25 and M45, and either can be stored in a 12-by-12-inch area – which means you can easily store them on a shelf, in a closet or even in the corner of a room when they aren't in use."
The M45 version of Practix consists of kettlebell weights of up to 45 pounds and dumbbell weights up to 30 pounds. The slightly smaller M25 Practix holds kettlebell weights that can be configured up to 25 pounds and dumbbell weights of up to 15 pounds.
While the weights are pure steel, they are rubber-coated to prevent any floor damage.
"Suspension training represents the biggest trend during home workouts, but there's no real substitute to the satisfaction of lifting iron when it comes to weight training," said Co-creator Sivan Entelis, a mechanical engineer who designed Practix. "We also came up with a beautiful design for Practix, which is available in different colors to accommodate any person's personal style or their room décor."
Entelis says Practix is also water-proof, making it perfect for exercising outside – whether on the beach or at any other outdoor workout facility.
"Both the M25 or M45 are extremely easy to use," Entelis said. "With our 'click and turn' locking system, you just click on the button located on each plate and do a half turn clockwise to add plates, or a counter clockwise turn to remove them. The dumbbell handle is located inside the kettlebell base, so it can be quickly and easily switched between kettlebell to dumbbell training."
The Practix locking mechanism also has two safety features to ensure the plate will not move during a workout.
The Practix is available in two different weight categories:

The M25, which replaces four kettlebells (10 lb./15 lb./20 lb./25 lb.) and three dumbbells (5 lb./10 lb./15 lb.) and includes two 2.5 lb. plates, two 5 lb. plates, a 10-lb. kettlebell base and a dumbbell handle.
The M45, which replaces seven kettlebells (15 lb./20 lb./25 lb./30 lb./35 lb./40 lb./45 lb.) and six dumbbells (5 lb./10 lb./15 lb./20 lb./25 lb./30 lb.) and includes two 2.5 lb. plates, two 5 lb. plates, two 7.5 lb. plates and a dumbbell handle.
The M25, smaller in size and weight and easier to transport, is designed for people who are not heavy lifters and like to take their workout gear outside for outdoor exercise. The M45 was created for those who need the extra weight to get their muscles pumping – offering an entire rack in one compact device.
As an added incentive during the Kickstarter Campaign, the first 100 backers who purchase a double set of Practix will become future beta testers of a smart handle now under development in collaboration with Potsdam University and the Exist startup program, which will be available in 2018. The handle, embedded with a chip, monitors the person's workout with features including a repetition counter, intensity measurements and automatic loggings.
For those who want to try out the new handle later, Entelis says they will not have to replace their existing Practix set, but just upgrade the handle.
For more information and to order Practix, visit the Practix Campaign Page on Kickstarter.
About Practix
The Practix Workout System was developed by Sivan Entelis, Assaf van Trienen, Omri Zaied and Alon Shalvi after they faced their own challenges when trying to work-out in their small apartments. Practix was formed to create a simple, compact weight rack for people who wanted to exercise in similar home environments. The creators are also developing additional Internet of Things (IoT) features for Practix in collaboration with Potsdam University and the Exist start-up program in Berlin, Germany. For more information, visit http://www.practix-workout.com.