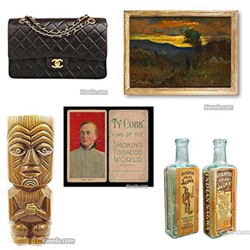 Cleveland, Ohio (PRWEB) January 13, 2017
The antiques experts at Kovels.com have compiled the most popular articles written during the past year. Articles are from both Kovels Komments (Kovels' weekly eNewsletter) and the Latest News on the Kovels.com homepage. Here are the top 10 articles for 2016.
1. What NOT to Collect: 6 Dangerous Collectibles
When shopping at antiques stores, flea markets and garage sales, collectors should be aware of the dangers that older items can pose. Some, like old firearms, war souvenirs (hand grenades, cannon balls or boxes of bullets), and old tools, are obvious dangers. But some innocent-looking … read more at Kovels.com, Latest News, March 2, 2016.
2. Art, Antiques Found in House Six-Bedroom Disguised as Shed
A 62-year-old Englishman man was living in a building he called a "shed" that he built in his mother's backyard without city permission. He had hidden the $1.3 million building with green siding. Read more at Kovels.com, Kovels Komments, Aug. 31, 2016.
3. Declutter the Collector's Way
We read and disagreed with a "Declutter Your Home" article that appeared in a periodical. It offered suggestions for ways to downsize, but when it comes to antiques and collectibles, the Kovels' had suggestions. Read more at Kovels.com, Latest News, April 6, 2016.
4. An Unrecognized Masterpiece Discovered in Auction
A pen and ink drawing on paper was offered for sale at a Cleveland auction. No one could identify the artist. Given an estimate of $2,000 to $4,000, bidding went up to $130,000. Read more at Kovels.com, Kovels Komments, April 6, 2016.
5. EBay is Changing
EBay is trying to lure younger shoppers by providing more new merchandise and making searches quicker on phones. Read more at Kovels.com, Kovels Komments, Nov. 16, 2016.
6. Mad About Mugs
Your old coffee mug may be a future collectible – some Starbucks mugs can sell for over $1000. Read more at Kovels.com, Kovels Komments, Feb. 10, 2016.
7. 3 Great Flea Markets to Visit this Spring
Kovels.com suggests spring flea markets that are worth a trip. Read more at Kovels.com, Latest News, March 17, 2016.
8. 5 Top Timeless Vintage Handbags
Wise investors, collectors and people who just love handbags have been discovering that the market for designer handbags is hot. Kovels.com listed 5 of the most popular. Read more at Kovels.com, Latest News, Aug. 2, 2016.
9. Mirror Secret Makes Money
A painting was discovered in excellent condition behind the glass of a mirror waiting to be sold at a March 2016 auction. Estimated at $6,000 to $9,000, animated bidding ended at $39,325. Read more at Kovels.com, Kovels Komments, May 18, 2016.
10. 7 Baseball Cards Worth 7 Figures Found
A family member who was cleaning the house of their deceased great-grandfather was wise enough to look in a crumpled paper bag before throwing it in the trash. Inside were seven Ty Cobb baseball cards. Read more at Kovels.com, Kovels Komments, Mar. 9, 2016.
All articles are viewable on Kovels.com and can be found by clicking on the Resources tab, then on Latest News or Kovels Komments. If you are not already a subscriber to our weekly eNewsletter Kovels Komments, register here.
About Kovels.com
Kovels.com, created by Terry Kovel and Kim Kovel, provides collectors and researchers with up-to-date and accurate information on antiques and collectibles. The company was founded in 1953 by Terry Kovel and her late husband, Ralph. Since then, the Kovels have written some of America's most popular books and articles about antiques, including the best-selling Kovels' Antiques and Collectibles Price Guide, now in its 49th edition. The website, Kovels.com, online since 1998, offers more than a million free prices, and includes a free weekly email, "Kovels Komments." It gives readers a bird's-eye view of the market through the latest news, auction reports, a Marks Dictionary, readers' questions and answers and much more.
Contact Information:
Liz Lillis
216.752.2252
Pr(at)kovels(dot)com