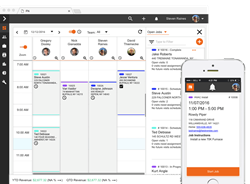 The [field service software] options out there require a huge investment of time and money upfront to get started. I knew there was a better way, so Field Nimble is geared toward the smaller contractor.
Las Vegas, NV (PRWEB) January 13, 2017
Field Nimble will be formally unveiling it's next generation work order management and field service software for small residential home services contractors and tradespeople at the 2017 AHRExpo in Las Vegas. The web and app-based software provides end-to-end tools that allow owners to manage a flexible database of customer information, schedule jobs and assign them to workers, build and present proposals, invoice, and collect payment. Unlimited customization of fields for customers and their equipment, technicians, jobs, notes, and more allows companies to tailor the software to fit specific needs.
The team behind Field Nimble has been working with contractors since 2007 and has helped over 650 companies become more effective and profitable through web and mobile software tools. During that time, it became clear that the needs of the small companies, who represent 80% of all contractors, weren't being served by other products in the market. "Field Nimble is geared toward the smaller contractor," said Field Nimble President Greg Dooley. "I saw that the other options out there require a huge investment of time and money upfront to get started. I knew there was a better way."
Field Nimble leverages new technologies, but keeps its focus on simplicity. "Too many systems have set fields and structures. My goal was to make a system that gives all the benefits of the new technologies, but stays as easy as working on paper," said Chief Technology Officer, Nick Gianadda. Field Nimble lets owners manage the entire work order process in the back office, in the field, and at home. "We know that running a small business doesn't just happen behind a desk. Our system has been designed to let everyone in the company work wherever they need to work, when they need to work."
In addition to flexibility, Field Nimble offers a unique pricing model for the industry. Customers who process credit cards and ACH transactions through Field Nimble's payment system get access to all the features of the product for unlimited users. "We understand what it means to be a small business owner," said company CEO Steve Kiernan II. "That's why our pricing model is based around the simple idea that we only make money when you make money." Customers who prefer to use a separate payment provider can take advantage of a more traditional per user, per month fee.
With the vast majority of service companies operating with less than 10 employees, Dooley believes there are many companies who haven't been able to find the right software for their needs. "Many of the existing software packages in this space turn away small companies. We know that with the right tools, these small contractors can be incredibly profitable. We've built an intuitive system that lets an owner start running jobs on day one, but we've made it flexible so owners can easily customize the data that is collected to fit the way they do business." For Dooley, the mission is clear: "I want to help the little guy compete."
Field Nimble will be presenting its software Jan 30th to Feb 1st in booth N11531 of the 2017 AHR Expo in Las Vegas. Field Nimble is headquartered in Buffalo, New York and can be found online at http://fieldnimble.com, on Twitter at @fieldnimble, and on Facebook at https://www.facebook.com/fieldnimble.