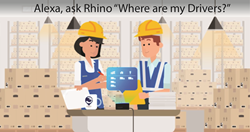 We can enable our GPS fleet tracking customers the ability to locate their drivers or vehicles simply by asking...
Argyle, Texas (PRWEB) January 23, 2017
Rhino Fleet Tracking announces its fleet tracking application is now integrated with Amazon Alexa. The introduction of this integration is an industry first in full service GPS tracking for businesses operating fleets of vehicles.
Today, customers are able to access and make changes to their fleet tracking data using voice commands through Rhino Fleet Tracking with Amazon Alexa. For example, a customer will be able to ask, "Alexa, ask Rhino, 'Where are my drivers?'" or "Alexa, ask Rhino to assign driver 'ABC' to truck '123'."
Rhino Fleet Tracking CEO, Steven Van Ooyen, explains, "While our fleet tracking system offers a great variety of tools for fleet managers and owners, we find that the simplest of tasks are performed most often. So, if we can enable our GPS tracking customers the ability to locate their drivers or vehicles simply by asking… Well, that is a powerful use of technology to drive efficiency with no ramp time at all!"
As explained by Amazon, "Amazon Alexa is built in the cloud so it is always getting smarter. Users can ask Alexa to play music, hear the news, check weather, control their smart home." Now users can "just ask" Alexa to track their drivers in the Rhino Fleet Tracking application.
Through an online application, Android or Apple iOS devices Rhino Fleet Tracking customers have access to over 15 reports and features including: speed, geofencing, and after hourse reports; travel history; driver management, service management and more.
Visit the Rhino Fleet Tracking Website for more information or call 1-800-293-0420.
About Rhino Fleet Tracking
Rhino Fleet Tracking systems optimize fleet performance for companies of all sizes. Rhino Fleet Tracking GPS tracking solutions enable companies to identify and address the concerns that come with managing their vehicles and movable assets. Rhino Fleet Tracking's state-of-the-art telematics provides web-based solutions to enhance productivity with smart information gathering and real-time data feeds, all with the goal of improving workforce performance and behavior.