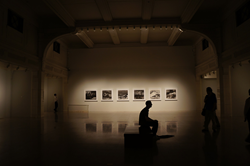 ...the track light is usable with any type of display not limited to 2-dimensional art.
Irvine, CA (PRWEB) January 19, 2017
Southern California-based lighting fixture company Cocoweb will be expanding their product assortment to include gallery track lights. This expansion follows the earlier addition of their battery-operated V-Series art lights.To keep up with growth, the company is moving their corporate headquarters to a larger office in the same city.
Keeping with their theme of designer lighting for artists, by artists, Cocoweb will launch their Minimal Gallery Series Track Light for use in galleries, museums, and commercial spaces. The new product offers an alternative to their existing frame-mounted picture lights. The LED track light will illuminate work from afar without being part of the display. And, the track light is usable with any type of display not limited to 2-dimensional art. Three color options (black, white, and silver) will be available. The new track light is designed for flexibility with adjustable brightness, orientation, and beam angle. Pre-orders have already begun on Cocoweb's website and the item will be officially available mid-February.
The other addition to Cocoweb's product assortment, the Tru-Slim V-Series Art Lights, offers a way to enhance the display of artwork for users who appreciate sleek style and ease of use. The ultra-slim frame of the art light is only ⅞ of an inch and comes in sizes between 12 and 43 inches. It is equipped with museum-grade LED lighting. This updated V-Series style offers versatile installation options including a traditional power cord, direct wire lighting, and 4-battery and 8-battery power boxes.
These expansions will be followed by many others; thus, after five years of being headquartered in Irvine's 3 Corporate Park on Jamboree, Cocoweb will be moving to a larger office located at 13715 Alton Parkway on January 20th. The new space will accommodate an expanding team and growing product collections.
For more information, visit http://www.cocoweb.com or call (888) 783-0378.