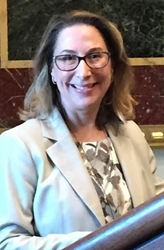 Lake City, CO (PRWEB) January 13, 2017
On January 18 at 2:00 ET, Green Builder Media is hosting a webinar with Senior White House Resiliency Advisor Samantha Medlock that will reveal the findings of a report recently released by the White House reveals threats posed by a changing climate and opportunities to make our homes and buildings safer and more resilient.
Resiliency has become one of the most important and urgent issues of our time, given the daunting fact that the United States now spends more on disaster recovery from super storms, floods, and wildfires, than it does on education.
For the past three years, the White House has worked with agencies like FEMA, U.S. Geological Survey, and the National Institute for Building Sciences, as well as insurance companies and other related businesses to create a comprehensive data sharing program that has informed the development of resiliency policy, insurance solutions, community protection strategies, and building codes.
Data collected through this collaboration has been compiled into a benchmark resiliency report, which confirms that the country is incurring astronomical amounts of insured losses on an annual basis due to severe weather events. The failure to address climate change could cost taxpayers hundreds of billions of dollars each year.
To properly address these losses, the White House has identified actions that should be taken immediately to reduce losses, lower insurance rates, and increase the market value of homes and buildings.
Green Builder Media's webinar will explore the ways to enhance the nation's resiliency. "While our data collection efforts are yielding better climate risk identification, adaption, and resilience practices – and positioning these practices for success over the long term, I remain concerned about the pace at which we're currently addressing resiliency," says Medlock.
Register for this undefined free webinar at http://www.greenbuildermedia.com/resiliency-state-of-the-union-strategies-for-a-changing-climate
For the most up to date resiliency news and information, visit Green Builder Media's dedicated resiliency website, Resilient Times.
About Green Builder Media
Green Builder® Media, LLC is the nation's leading media company focused on green building and sustainable living, affecting positive change by providing inspirational information to over 200,000 progressive building professionals and 38 million consumers who are interested in sustainable living. With a comprehensive suite of content marketing, digital, social, and print media options, high-profile demonstration projects, market research, and live events, Green Builder Media offers a blend of visionary and practical information covering a broad spectrum of sustainable living topics, including Internet of Things, smart home technologies, energy efficiency, water conservation, indoor air quality, resilient housing, renewables and clean transportation. For more information, visit http://www.greenbuildermedia.com.