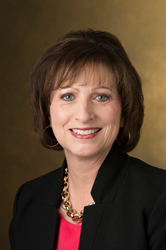 Our online learning opportunities provide students with a high quality education through the use of small class sizes, strong faculty mentoring and support, and robust program content
Edwardsville, Ill. (PRWEB) January 13, 2017
U.S. News & World Report highly ranked Southern Illinois University Edwardsville's School of Nursing among the top 100 in its 2017 Best Online Graduate Nursing Programs list released Jan. 10. The School is ranked 94th among 140 schools nationally.
The School of Nursing's online graduate degree programs include a family nurse practitioner doctor of nursing practice (DNP), post-master's DNP, and master's degrees in health care nursing administration (HCNA) and nurse educator (NE).
Dr. Laura Bernaix, dean of the School of Nursing, said the U.S. News rankings reflect the School's continued commitment to providing excellent academic experiences in the ever-evolving healthcare field.
"Our online learning opportunities provide students with a high quality education through the use of small class sizes, strong faculty mentoring and support, and robust program content," Bernaix said. "It is an honor to be nationally recognized, and we expect the School's online graduate programs to continue to excel in program delivery, and student satisfaction."
Rankings for the top online learning programs were based upon faculty credentials and training, student engagement, admissions selectivity, peer reputation, and student services and technology.
The full rankings are available at usnews.com.
The SIUE School of Nursing's fully accredited programs are committed to creating excellence in nursing leadership through innovative teaching, evidence-based practice, quality research, patient advocacy and community service. Enrolling nearly 1,400 students in its baccalaureate, master's and doctoral programs, the School develops leaders in pursuit of shaping the nursing profession and impacting the health care environment. SIUE's undergraduate nursing programs on the Edwardsville campus and the regional campus in Carbondale help to solve the region's shortage of baccalaureate-prepared nurses and enhance the quality of nursing practice within all patient service venues. The School's graduate programs prepare nurses for advanced roles in clinical practice, administration and education.