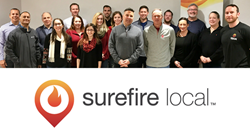 "Surefire Local is clearly the undisputed leader in national-to-local digital marketing."
Tysons, VA (PRWEB) January 17, 2017
Surefire Social, the marketing technology platform for local businesses, has purchased Atlanta-based franchise marketing company Promio. The acquisition preceded a rebranding as Surefire Local, a change that better reflects the company's capabilities in hyper-local marketing.
Surefire Local has been included on the Inc. 5000 List of America's Fastest Growing Companies for three years in a row. The company's SaaS technology products enable business owners to reach their local customers more effectively. In 2016, customers used Surefire services to generate more than 600,000 leads.
With its acquisition of Promio, Surefire Local has added key capabilities to its SurePulse™ marketing cloud. SurePulse will now have automated digital customer acquisition advertising deployment across Google, Bing, and Facebook as well as a local marketing automation program to drive digital and physical campaigns to grow and nurture customer relationships.
Promio's advertising technology platform, integrated into SurePulse, will allow customers to now manage and execute all of their local digital and physical marketing, including customer acquisition, loyalty and reputation management, from a single platform, with advanced analytics to understand the ROI on their marketing efforts.
With SurePulse business owners control and access their real-time content publishing, reputation monitoring, and directory listings, along with a dashboard of powerful actionable marketing metrics to show the best ways to market a local business using the web app or on an iPhone or Android device.
Surefire Local also provides business owners a virtual marketing team that is available to provide digital marketing expertise. The SurePulse Marketplace provides additional partner products.
"We welcome Promio's outstanding people and world-class franchise brands to the Surefire team," said Chris Marentis, founder and CEO of Surefire Local. "We built SurePulse as a single place for business owners to choose, control and analyze their local marketing and close the gap in the journey from prospect to customer. As a Google Premier Partner, we are excited that customers can choose their advertising to suit business needs and make a quick and easy entry into Google advertising."
Mark Montini, Promio founder and CEO said, "Surefire Local is clearly the undisputed leader in national-to-local digital marketing. The synergies between the SurePulse platform and Promio's digital advertising product were amazing. Combining the companies extends Surefire's lead in the national-to-local marketplace, and will enable us to drive even better results for our clients."
Montini will remain with the company serving as a senior strategic advisor to the Surefire board and key clients.
About Surefire Local
Established in 2009, Surefire Local provides simple, accessible and cost-effective new customer acquisition products and services, helping local business owners live prosperously. It has emerged as a top local marketing technology company and a top Google Premier Partner for home improvement businesses, medical practices and franchise owners. Large manufacturers like GAF, Renewal by Andersen, Wellborn Cabinets and Louisiana-Pacific also partner with Surefire Local to provide preferred local digital marketing services to their dealer and distributor networks.